Summary
Amid the Corona Bear market, fundamentally robust stocks are trading on a deep bargain relative to their true worth.
Taking the heat of the bear market, Anixa BioScience's shares are beaten down to an extremely enticing valuation for growth and value investors.
At the heart of Anixa is the next-generation CAR-T that can treat deadly solid tumors. Early data for the ovarian cancer franchise is quite robust.
Riding prudent corporate strategies and brewing promising franchises, I expect Anixa to trade much higher at the next bull market cycle.
On behalf of IBI, I wish you all a Happy Mother's Day!

Bull markets are born on pessimism, grown on skepticism, mature on optimism and die on euphoria. The time of maximum pessimism is the best time to buy, and the time of maximum optimism is the best time to sell. - Sir John Templeton
Introduction To Corona Bear Market And CAR-T
It's been approximately six months into the Coronavirus pandemic. As of May 10th, 2020, the
World Health Organization
(i.e., WHO) revealed 3.9M Sars-CoV-2 infections with 274K deaths. Following Coronavirus' devastation, the stock market plunged deep into bearish territory. Driven by fear, massive selling pushed many fundamentally robust companies to trade at a deep bargain. If you've been following my coverage, you'd know that I love CAR-T stocks.
Back in 2017, my two favorite CAR-T innovators - Kite Pharma (KITE) and Juno Therapeutics (JUNO) - were both acquired for sizable gains. During this Corona bear market, I'm not gun shy to search for more promising CAR-T companies. A notable candidate that stood out is Anixa Biosciences (
ANIX
). Despite its strong fundamental and expansive pipeline, Anixa depreciated over 50% in the past six months.
A Tremendous Opportunity
Right now, you're fearful of the uncertainty about the future. Your thoughts are ruminating on what can happen to your well-being and to your stocks. My friends, I can imagine how you feel. I want you to look at the history of pandemics. As such, you'd see that all outbreaks like ebola always eventually subsided. As you realize that fear is nothing more than False Expectations Appearing Real, you'd see that Coronavirus is no exception.
Sure, it is likely to come back next year. Yet it'll be in strains much less virulent like the seasonal flu. After every storm, the sun will always shine. If you pick up fundamentally sound companies during this Corona bear market, you can potentially gain multiple folds at the next bull market cycle. In this research, I'll present a fundamental analysis of Anixa and provide my forward expectations on this highly volatile growth equity.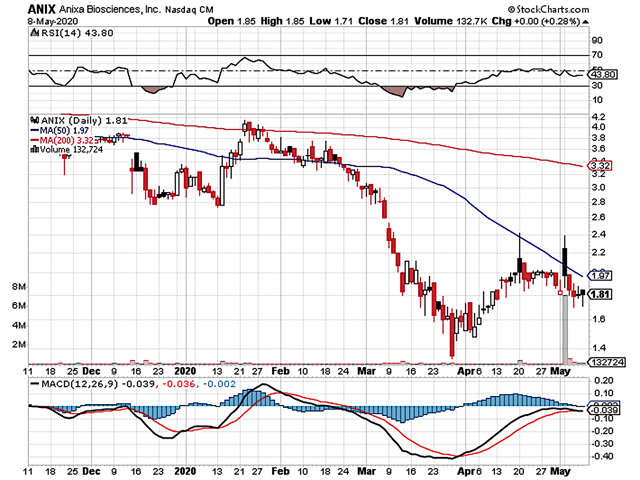 Figure 1: Anixa chart (Source:
StockCharts
)
About The company
As usual, I'll present a brief corporate overview for new investors. If you are familiar with the firm, I recommend that you skip to the next section. Headquartered in San Jose, California, Anixa Biosciences is focused on the innovation and commercialization of stellar cancer medicines to deliver hopes for patients worldwide.
Though you may say that this pipeline is quite young, there are several lucrative developments to improve your chances of investment success. Accordingly, the crown jewel is the next generation CAR-T coined chimeric endocrine receptor T-cell (CER-T). Instead of attacking blood cancers, CER-T is designed to decimate solid tumors and their associated vasculatures.
Remarkably, there is a vaccine that targets the alpha-lactalbumin to prevent the deadliest form of breast cancer, i.e., triple-negative breast cancer (TNBC). Interestingly, the company also has a COVID19 medicine that disrupts the Coronavirus' protein. Adding depth to the research and development (R&D) is a liquid biopsy dubbed Cchek. As early cancer detection is essential to survival, Cchek can catch these rogue cells in their earliest stage.
Prudent Corporate Strategy
Now if you've been following my research, you know that I place a strong emphasis on the corporate strategy. Having a prudent corporate strategy is like having the right road map. Else, you can have the best ship in the world, but you won't arrive at the correct destination. On this front, I like Anixa's low-cost therapeutic development approach.
That is to say, Anixa raised money from the Department of Defense to run its preclinical and Phase 1 studies. Instead of consuming tremendous capital to build its infrastructure, the company contracts leading hospitals and institutions to run its trials. Notable examples include the Moffitt Cancer Center, Wistar Institute, and the Cleveland Clinic. I know some of you are not familiar with these centers. If you Google search these names, you'd see they're top institutions in the U.S.
Leveraging those institutions, Anixa can quickly ramp up its R&D due to their expansive infrastructure and expertise. This way, the company enjoys lower capital expenditures while having access to professional expertise. After gaining strong early clinical data, the firm intends to partner with larger pharmaceuticals to advance their Phase 2 clinical trials.
A Differentiated CAR-T Innovator
Despite its various franchises, you should first focus on the CAR-T program. That's because I believe the bulk value of Anixa resides in CER-T. Of note, the first-generation CAR-T (Yescarta and Kymriah) have robust efficacy and acceptable safety. And yet, they can only treat blood cancer. As you can see, the most lucrative market encapsulates solid tumors, which are out of reach of the first-generation therapeutics. Here is where CER-T comes in.
By engineering the general of the immune system (i.e., T-cell) to subdue the follicle-stimulating hormone (FSH) receptor, CER-T can decimate many solid tumors. Notwithstanding, the first CER-T indication is the deadly
ovarian cancer
. As you can see, there aren't many therapeutic options for ovarian cancer and the survival rate is very low. Hence, I'm very happy to see Anixa advancing CER-T to deliver hopes for this seemingly hopeless indication.
You may ask, Dr. Tran, how does CER-T work? My friends, knowing about a drug's mechanism of action can help you forecast its clinical outcomes. Therefore, let's check the inner workings of this clock. Accordingly, CER-T primes the General T-cell of the immune (i.e., natural defense) system with the intelligence against the FSH receptors found on cancer cells. As a ramification, the general rallies the immune system cells (i.e., troops) against these rogue cellular entities (i.e., enemies). The ultimate result is extremely precise and specific cancer destruction, which leads to improved patient survival.

Figure 4: CER-T's design (Source: Anixa)
Target Specificity To Improve Efficacy And Lower Toxicity
When you analyze a cancer drug, make sure you focus on its target specificity. As you gain information about its specificity, you can forecast its safety and tolerability. Of note, most cancer drugs (i.e., chemotherapies) are good medicine but their utility is limited due to the potential toxicity.
In other words, when you put a patient on chemo, it randomly kills all cells that divide rapidly. Asides from cancerous cells, there are normal cells that have rapid turnover. Some examples include those lining the intestines, skin cells, and hair cells. Despite their lifesaving property, these drugs can cause a plethora of adverse effects like severe nausea, vomiting, hair loss, and lack of appetite.
The good news is that CER-T can circumvent that setback. Specifically, CER-T attacks the FSH receptors found exclusively in the ovaries and testes. As shown in the figure below, the only organs expressing FHS receptor mRNA are testes and ovaries. As a ramification, CER-T can be a highly efficacious drug for testes and ovarian cancers. Moreover, I believe that CER-T will have a good tolerability profile because it spares normal cells.
Attacking The Tumor's Vasculature
That's not all CER-T has to offer! You have more good news here. Remarkably, this novel CAR-T can also obliterate the tumor's vasculature (i.e., blood vessels) and thereby disrupts the process known as angiogenesis. As you can see in the figure below, FSH receptors are also found abundantly on new blood vessels feeding cancerous cells. You may not think much of this, but it has crucial implications.
I often mentioned that using combination therapies is very important to destroying cancer. After all, combination therapy is the cornerstone of efficacious cancer management. By knocking out multiple cancer targets, there is less time cancerous cells have to evolve for escaping immune detection. That, in my view, is the holy grail to preventing the dreaded/common cancer phenomenon, i.e., a relapse. If you talk to a patient afflicted by cancer, you can better appreciate a drug that deters a relapse.
Since CER-T suppresses a crucial aspect of cancerous growth and spread (i.e., angiogenesis), it can be an excellent combination agent with other chemotherapy. In my view, it's best to deliver a knockout combo against cancer rather than relying on a single punch knock out. Here, CER-T stops tumors from building their highway infrastructure of new blood vessels for metastasis (i.e., tumor spread). By halting vessel formation, you can starve the cancerous cells of the nutrients needed for growth.
As you can see, CER-T can be employed as either a single agent or in combination therapy. Hence, a large pharmaceutical company would be interested in using CER-T. That's because companies are always searching for novel medicines that can deliver the therapeutic synergy with their blockbusters (i.e., Opdivo and Yervoy).
Promising Early Data
You may tell me, Dr. Tran, all this sounds too good to be true. And you are right to be cautiously optimistic. All the sound mechanisms of action would be meaningless unless there is concrete data. On this front, I'm not surprised by how well CER-T performed in preclinical studies. As shown below, CER-T killed far more human ovarian cancer cells than the control.
In mice engineered with breast cancers, the subjects treated with CER-T enjoyed much higher survival and far more tumor volume reduction versus the control. When you analyze clinical data, you want to compare how the treated group performed relative to the control. That tells you whether the drug truly works. You may also argue, Dr. Tran, this is simply early study results. Right you are, but all blockbusters have to start from preliminary investigations.
With the robust early outcomes and sound mechanism of action, I believe that the chances of CER-T to generate positive advanced data are more than favorable. Now no one can guarantee future trial results. Nevertheless, I like what I've seen thus far. And my intuition tells me that Anixa's CER-T can deliver good clinical outcomes and thereby becomes a blockbuster.
Estimated CAR-T Market
Shifting gears, you should look into the other aspects of this CAR-T. Notably, Anixa licensed this CER-T from the Wistar Institute. The company already completed the pre-clinical investigations in both human and murine ovarian cancer models. They also finished the proof of concept study of CER-T in human breast cancer cells.
The next step is work associated with pre-Investigational New Drug (pre-IND) application. This is led by the highly experienced team at the Moffitt Cancer Center. Back in 2018, Anixa had a successful meeting with the FDA for its pre-IND. Despite the Coronavirus pandemic, the company anticipates an IND filing by year-end. Thereafter, you can expect the Phase 1 (human) clinical trial to start in 2021.
Valuation Analysis
In investing, you should value your stock. Else, there is no way to know if you are buying an equity that is overvalued or undervalued. Purchasing an investment without valuation is like buying a house without appraising its true worth.
Keep in mind, biotech valuation is quite difficult because it requires knowledge synthesis from various disciplines. Accordingly, I adapted my own valuation technique that is most applicable to developmental-stage bio-companies. My approach employs comparative market analysis, appropriate discounts of the assets' current phase of development, and valuation of the sum-of-parts.
Table 1: Valuation-based on CAR-T alone (Source: Dr. Tran BioSci)
Another way of valuing a company is to quickly approximate how much it is worth based on the lead franchise. In my view, a maturing CAR-T is worth far more than $1B. If you recall, Gilead Sciences (
GILD
) acquired Kite Pharma (
KITE
) for $12B while Celgene Corporation (
CELG
) picked up Juno Therapeutics (
JUNO
) for $9B. Hence, if Anixa succeeds in advancing its CAR-T, it's a no-brainer that valuation will be much higher than the current level.
I'm highly conservative in valuation to increase the margin of safety for a prudent investment. That's why I only estimated the value of Anixa based on the CAR-T franchise for ovarian cancer alone. However, there are other pipeline assets. As such, this stock is likely worth much more once various franchises advance further in development.
As of today, Anixa is trading at only $1.81 because of the Corona bear market. The very early stage of development of the CAR-T franchise also contributed to the soft valuation. Once human data rolls in by either late 2021 or early 2022, I doubt Anixa will trade this low.
Potential Risks
Since investment research is an imperfect science, there are always risks associated with your stock regardless of its fundamental strengths. More importantly, the risks are "growth-cycle dependent." At this point in its life cycle, the main concern for Anixa is whether the company will post positive Phase 1 clinical data in either 2021 or 2022. That aside, there is the concern that other franchise assets might not deliver good clinical results.
In case of a negative data reporting, you can expect Anixa to tumble by 50% and vice versa. As a young company, Anixa might grow too aggressively and thereby runs into the potential cash flow constraint. Given the fact that the firm can secure cash from the Department of Defense and potential pharmaceutical partners, this risk is significantly mitigated.
Final Remarks
In all, I initiated coverage on Anixa Biosciences with a buy and the five out of five stars rating. On a two to three years horizon, I expect the $12.50 price target ("PT") to be reached. I also graded the stock with the high investment risk. And, I ascribed the 65% investment profitability score on this company. In a nutshell, you're going to make money on Anixa, provided that you hold your investment for the next few years until the pipeline further advances.
From the trading view, I noticed that Anixa is highly volatile. The stock shot ups substantially in a short period of time as well as tumbled just as fast. If you are not afraid of volatility, Anixa makes a very good stock for trading and investing. Though it may change, my intuition is telling me that there is a 65% chance of a robust rally going forward.
As a young innovator, Anixa Biosciences is taking on the huge challenges in treating deadly cancers with a novel CAR-T. Based on the early data and my molecule analysis, I expect CER-T to deliver positive clinical outcomes in the coming years. Thereafter, it's quite likely that Anixa will secure a development and marketing partner. Looking ahead, I expect Anixa to enjoy the industry tailwind relating to CAR-T. And I strongly believe that CAR-T will play increasingly important roles in cancer management in the future. After all, CAR-T can deliver hopes in seemingly hopeless cancer indications. You saw that with Kymriah and Yescarta.
Though the first-generation CAR-Ts delivered hopes to patients afflicted by deadly blood cancers, the best is yet to come. With the ability to subdue solid tumors and angiogenesis, you can expect CER-T to potentially become one of the leading CAR-Ts in the future. Moreover, there is the COVID19 franchise, the breast cancer vaccine, and the early cancer diagnostics in Anixa's portfolio. For clarity, I can only fit into this research with my CAR-T analysis.
As usual, the choice to buy, sell, or hold is always yours to make. In my view, you should read my research and then conduct your own due diligence. There is certainly risk associated with Anixa, yet the upsides are tremendous. If you're looking for a CAR-T stock to diversify, Anixa can reward you in the coming years. In the thick of the Corona Bear market, Anixa is beaten down to an enticing valuation. I doubt this price will be available in the next bull market cycle.
Disclosure:
I/we have no positions in any stocks mentioned, and no plans to initiate any positions within the next 72 hours.
Business relationship disclosure: Due to my medical and market expertise, companies and third parties like GuidePoint Advisors hired me as a paid consultant. Though being in the industry gives me expert insight on the forefront, my views may not be completely objective. On May 6th, 2020, I entered a paid consulting, investor relations, and scientific writing service with Anixa BioSciences. See complete disclosure and disclaimer http://www.drtranbiosci.com/p/dr-trans-complete-disclaimer-and.html.
Additional disclosure:
As a medical doctor/market expert, I'm not a registered investment advisor. Despite that I strive to provide the most accurate information, I neither guarantee the accuracy nor timeliness. Past performance does NOT guarantee future results. I reserve the right to make any investment decision for myself and my affiliates pertaining to any security without notification except where it is required by law. I am also NOT responsible for the actions of my affiliates. The thesis that I presented may change anytime due to the changing nature of information itself. Investment in stocks and options can result in a loss of capital. The information presented should NOT be construed as a recommendation to buy or sell any form of security. My articles are best utilized as educational and informational materials to assist investors in your own due diligence process. That said, you are expected to perform your own due diligence and take responsibility for your actions. You should also consult with your own financial advisor for specific guidance, as financial circumstances are individualized.