Summary
After several years of robust fundamental advancement, Avalon is now transitioned into its aggressive 2.0 growth phase.
Asides from the upcoming SenlangBio acquisition, Avalon continues to foster its collaborative relationship with various institutions.
As it unlocks the latest University of Pittsburgh partnership, Avalon will deliver a novel and ingenious form of CAR-T, i.e., FLASH-CAR™, to patients.
FLASH-CAR™ may potentially overcome the drawbacks of the first-generation CAR-T medicines.
Asides from rapid delivery, FLASH-CAR™ is safer, more efficacious, and is able to subdue both blood cancers and solid tumors.

In the stock market a good nervous system is even more important than a good head.

- Phillip Fischer (Warren Buffett's mentor)
When you invest in biotech, it's imperative that you pay attention to any partnership development. After all, a partnership can garner intelligence and resources to ensure innovation success. On that note, you typically hear about partnerships relating to sales and marketing (i.e., S/M). Nevertheless, the partnership being overlooked is one pertaining to research and development (R&D). As you can see, an S/M partnership is crucial for developing biotech having an upcoming drug approval. Now, the R&D partnership is quite important for an innovator with most of its drugs in the earlier developmental stage, says a Phase 1/2 clinical study.
That being said, Avalon GloboCare (AVCO) epitomizes the aforesaid phenomenon. After it formed several colossal partnerships to lay the foundation for long-term growth, Avalon recently engaged in another key collaboration with the University of Pittsburg's Hillman Center. In my view, this collaboration is a huge growth catalyst for the stellar next-generation CAR-T medicines. In this research, I'll feature a fundamental analysis of Avalon and provide you my expectation of this promising Phillip Fisher's growth equity.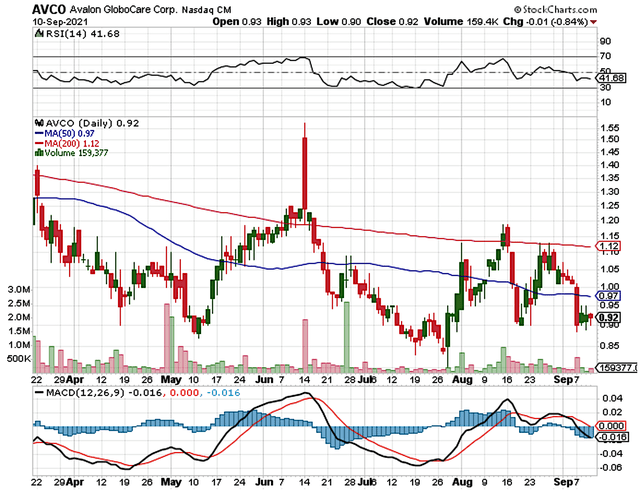 Figure 1: Avalon chart (Source: StockCharts)
About the company
As usual, I'll deliver a brief corporate overview for new investors. If you are familiar with the firm, I suggest that you skip to the subsequent section. Founded in 2016, Avalon GloboCare quickly transitioned into a clinical-stage biotechnology company in just a few years. Striving to deliver unmet needs for patients worldwide, Avalon is dedicated to the development and commercialization of innovative and transformative cellular therapies and technologies. I noted in the prior research,
Riding on the wing of its ingenious founders (Dr. David Jin and Chairman Daniel Lu), Avalon is advancing a pipeline of great depths. As shown below, the company is innovating the next-generation CAR-Ts such as AVA-001 and AVA-011, and etc. There's also the AVA-Trap hemofiltration, Covid-19 mucosal vaccine, and allogeneic MSCs.
Figure 2: Diagnostic and therapeutic pipeline (Source: Avalon)
Conventional CAR-T Therapeutics
If you've been following my research, you'd recall that I covered two stellar CAR-T companies: Kite Pharma (KITE) and Juno Therapeutics (JUNO). Back in 2017, Gilead Sciences (GILD) acquired Kite for $11.9B. In the subsequent year, Celgene Corporation (NASDAQ:CELG) also scooped up Juno for $9B. As you know, hindsight is 20/20. Notwithstanding, I was expecting both Kite and Juno to be acquired.
CAR-T embodies a novel and highly efficacious mode of combating cancer, i.e., one of the most deadly and difficult to treat diseases. Simply put, CAR-T is the best medicine known to men for decimating cancers. For instance, patients suffering from blood cancers (who were informed by their doctors that they have only a few months to live) can now enjoy a new life with CAR-T treatment. Hence, you can see why large biopharma like Gilead and Celgene acquired those CAR-T innovators.
Shifting gears, you should go over the salient science and logistics of CAR-T for you to better appreciate Avalon and its novel life-saving medicines. God forbid, but who knows that one day you and your loved ones might need these drugs. That aside, you can gain an expert edge in understanding the investing merits of this potential multi-bagger, i.e., an investment that can give you multiple folds upside.
As follows, there are various cells comprising of the body's natural defense (i.e., immune) system. Of those units, the most important ones are T-cells. Analogous to "the General" of an army, T-cells direct the defense and killing of rogues cancer cells as well as infectious agents like a virus.
As you can imagine, cancer cells fight back against the immune system by escaping the detection of T-cells and other immune players. In bypassing the immune detection, cancer cells are able to rapidly divide and thereby wreaks havoc on the patient's physiology. In other words, these rogue cells consume all the nutrients in your body while destroying normal cellular functions.
By engineering T-cells with intelligence through genes transfers, the General T-cells can quickly round up troops for rapid and effective eradication of cancer. Due to its stellar efficacy and safety, several CAR-Ts are approved and launched in recent years. Some examples include Yescarta of Kite and Kymriah of Novartis. Nevertheless, there are huge limitations on these first-generation CAR-Ts which reduced their utility.
First, the process of harvesting T-cells from the patient to engineering and reintroducing them to the body can be lengthy and cumbersome. That is to say, it takes approximately two weeks for the whole treatment process. Second, there is a significant risk of Cytokine Release Syndrome (i.e.., CRS) as well as CAR-related encephalopathy syndrome (i.e. CRES). Third, these CAR-Ts can solely subdue blood cancers rather than solid tumors. Fourth, there is only a single target attack which increases the chances that these rogue cells will evolve for evading immune detection.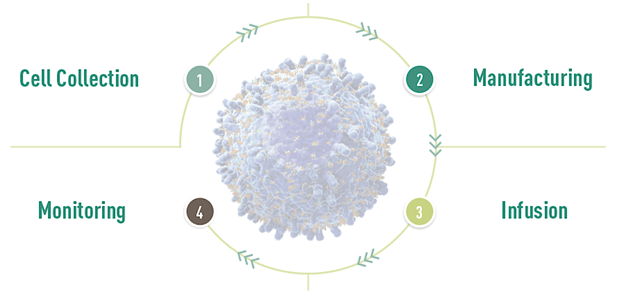 Figure 3: Process of Kymriah treatment (Source: Novartis)
Next-Generation CAR-T
The great news for patients is that Avalon is aggressively advancing the next-generation CAR-Ts that can overcome the aforesaid setbacks of conventional CAR-Ts. You can imagine that doing so is a magnanimous and lofty endeavor. Successfully innovating such a CAR-T is like capturing lightning in a bottle.
Based on my analysis of countless CAR-T innovators over the years, it dawned on me that Avalon undoubtedly has the silver bullet CAR-Ts. And, the amalgamation of these life-saving medicines necessitates the unrelenting innovation, ingenious brainpower, and phenomenal leadership from the company's founders - Chairman Daniel Lu and Dr. David Jin (who is a physician-scientist). Equally important is Dr. Jin's ability to form a strategic partnership to harness the wisdom and intelligence of world-class CAR-T innovators.
In the August 04 press release, Avalon reported that the company has entered into an intriguing collaborative research and development relationship with the University of Pittsburg (UPMC)'s Hillman Cancer Center. Guiding this collaboration is Yen-Michael S. Hsu, M.D., Ph.D., Director of the Immunology Immunologic Monitoring and Cellular Products Laboratory (IMCPL) at UPMC Hillman, and Principal Investigator of this collaborative project with Avalon.
Notably, IMCPL is a highly reputable FDA-registered institution that fosters innovation. As the Foundation for Accreditation of Cellular Therapy-accredited laboratory, IMCPL assists investigator-led research that translates into clinical medicine. With Dr. Hsu's collaboration, Avalon can leverage Hillman's IMCPL to advance its stellar CAR-T molecules.
Contrary to the first-generation drugs, Avalon's medicine does not require a viral vector for genes transfer. As a general rule-of-thumb, a viral gene transfer confers great risks of complications. In their infinite wisdom, the good Drs. (Jin and Hsu) ingeniously employ mRNA technology via electroporation to deliver the correct genes into the T cells.
I can imagine that you might be wondering what exactly is the electroporation process. It's essentially the use of a low voltage current (i.e., electricity) to shock the cell membrane to temporarily open up for the genes transfer. It's like gently pushing the gate to enter a house for package delivery. The important genes then confer T-cells with the intelligence needed to combat cancers.
As you know, CAR-T is highly efficacious but it comes with the potential risks of adverse effects, i.e., CRS and CRES. Here, the physician can turn off Avalon CAR-T's biological "safety switch" which is an FDA-approved medicine at the first sign of any potential toxicity. As such, this process is much safer than conventional CAR-Ts.
As it can subdue multiple targets simultaneously, Avalon's CAR-T is much more versatile and efficacious. By attacking cancer on multiple fronts, Avalon's medicine reduces the time these rogue cells have to evolve for rendering the treatment obsolete. That makes it conforms to the cornerstone of prudent cancer management by combination therapy. Due to its versatility, Avalon's CAR-T can be used to treat many different types of cancers, i.e., both blood cancers as well as solid tumors. Thrilled by the collaboration, Dr. Hsu enthused,
With Avalon GloboCare FLASH-CAR™ technology, we will use an innovative messenger ribonucleic acid (i.e., mRNA)-based technology platform that will allow researchers to create CAR cellular therapies much faster than before in just one to two days. We also believe this approach will reduce toxicity and overall cost associated with current CAR T-cell therapies, meaning more cancer patients could be eligible for this type of cellular therapy.
Additionally, the gene transfers by mRNA enable an amalgamation of a CAR-T that be used "off-the-shelf." In other words, these universal CAR-Ts are harvested from a healthy donor, manufactured in bulk, and made readily available to patients. Hence, the process of getting them to patients is much faster and more convenient without potential delays. If you're in the battle of life versus death against cancer, you can see that every second counts. Like miracle works, Avalon can deliver their CAR-T to patients in just two days. In Dr. Hsu's remarks,
A clinician could order this cellular immunotherapy in the same way as antibody or oral cancer treatment, reducing the time a patient has to wait for treatment. Because this cellular therapy would be made in a large batch, the cost of manufacturing would be much lower, resulting in a lower cost of the final cellular therapy products for patients.
Looking ahead, you can expect Avalon to initially deploy FLASH-CAR™ against blood cancers. As such, Hillman and Avalon are poised to bring a treatment to patients afflicted by relapsed/refractory B-cell lymphoblastic leukemia and non-Hodgkin lymphoma as early as mid-2022. By then, you can anticipate that a clinical investigation will commence on this front. That aside, there are other CAR-Ts and molecules in Avalon's pipeline to substantially boost the stock's fundamentals.
Potential Risks
Since investment research is an imperfect science, there are always risks associated with your stocks regardless of their fundamental strength. At this point in its growth cycle, a concern for Avalon is whether the University of Pittsburg partnership will materialize into FLASH-CAR™ drugs that would deliver positive clinical results. Furthermore, there is a small risk that other developing molecules won't generate strong outcomes.
Though early data from Avalon's CAR-T is superb, there is no guarantee that a larger trial will post similar findings. Like other smaller biotech, cash flow can be a concern. A small company that grows rapidly can exert constraints on its balance sheet. Be that as it may, Chairman Daniel Lu mitigated that risk by providing financial backing for Avalon in the form of a $20M credit facility.
Conclusion
In all, I maintain my strong buy recommendation on Avalon Globocare with a five out of five stars rating. On the two to three years horizon, I expect the $15.0 price target to be reached. I also ascribed the 70% "investment profitability score" on this stock. And, I graded Avalon with low investment risk. In a nutshell, you have a strongly favorable chance of making money on Avalon, provided that you hold your shares for the long term.
From the trading view, my intuition tells me that Avalon will rally in the coming months as this partnership and various fundamental developments will materialize into results. Simply put, the momentum is building in this growth equity. Any positive new clinical development can give the shares another boost.
| | | |
| --- | --- | --- |
| Dr. Tran BioSci's M7 Criteria | Stars Rating (Max 5 stars) | Rationale |
| Medicine and technology | 5/5 | FLASH-CAR™, off-the-shelf, CAR-Ts, AVA-001, AVA-101, QTY Code Proteins, and various SenlangBio CAR-Ts, CAR-γδT, armored tumor-infiltrating lymphocytes, etc. |
| Market | 5/5 | $20.3B global CAR-T market |
| Money | 5/5 | $20M credit facility from Chairman Lu and $30M of investment from an institutional biotech investor. With its modest cash burn rate, Avalon is in great financial condition. |
| Management | 5/5 | Stellar |
| Maturity | 5/5 | Smooth transition from 1.0 to 2.0 growth phase |
| Must-know catalysts | 5/5 | Upcoming SenlangBio acquisition consummation |
| Money making | 5/5 | Long-term investment |
| Overall rating | 5/5 | |
Figure 4: M7 Criteria (Source: pioneered by Dr. Tran with inputs for advancement from IBI colleagues)
The process of successfully innovating a CAR-T from bench research to commercialization is no small task. It requires the time and the working of many brilliant minds. As Avalon is now in its 2.0 growth stage, the company deepens its portfolio with stellar CAR-T medicines. After key partnerships are formed, Avalon recently wrapped a championship belt on its waist with the University of Pittsburg collaboration.
As we're heading into 4Q2021 and into 1H of next year, you can anticipate great developments to come. As it delivers hopes for countless patients worldwide, I strongly believe that Avalon will also reward you (as a supporter of bio innovation) with multiple-fold gains in the coming years.
As usual, I'd like to remind investors that the choice to buy, sell, or hold is always yours to make. In my view, you should double down on Avalon whenever there is a pullback to enjoy multiple-fold gains in the coming years.
Disclosure: I/we have no stock, option or similar derivative position in any of the companies mentioned, and no plans to initiate any such positions within the next 72 hours.
Business relationship disclosure: Due to my medical and market expertise, companies and third parties like GuidePoint Advisors hired me as a paid consultant. Though being in the industry gives me expert insight on the forefront, my views may not be completely objective. On October 4th, 2019, I established a paid consulting relationship with Avalon. In August 2020, I finished my consulting work with Avalon. In August 2021, I re-engaged my consulting relationship with Avalon. See complete disclosure and disclaimer http://www.drtranbiosci.com/p/dr-trans-complete-disclaimer-and.html
Additional disclosure: As a medical doctor/market expert, I'm not a registered investment advisor. Despite that I strive to provide the most accurate information, I neither guarantee the accuracy nor timeliness. Past performance does NOT guarantee future results. I reserve the right to make any investment decision for myself and my affiliates pertaining to any security without notification except where it is required by law. I'm also NOT responsible for the action of my affiliates. The thesis that I presented may change anytime due to the changing nature of information itself. Investing in stocks and options can result in a loss of capital. The information presented should NOT be construed as recommendations to buy or sell any form of security. My articles are best utilized as educational and informational materials to assist investors in your own due diligence process. That said, you are expected to perform your own due diligence and take responsibility for your action. You should also consult with your own financial advisor for specific guidance, as financial circumstances are individualized. That aside, I'm not giving you professional medical advice. Before embarking on any health-changing behavior, make sure you consult with your own doctor.