Summary
The 2021 Biotech Bear market is seemingly prolonged into this year. As such, many fundamentally sound companies like Avalon GloboCare are trading on a downtrend.
Avalon recently filed its annual report and thereby provided investors with important corporate updates.
The Illustrious Chairman (Daniel Lu) doubled down on the stock as he converted corporate debts into common shares at the 45% premium to its market valuation.
To preserve shareholders' value, Avalon decided to steer away from acquiring SenlangBio to focus on organic pipeline development.
Meanwhile, the Dragon CAR-T (AVA011) is anticipated to enter the clinic by mid-year.

"A strong marketer must constantly alert to the changing desires of its customers so that the company is supplying what is desired today, not what used to be desired." - Phillip Fischer (Warren Buffett's mentor) on a growth's stock marketing organization.
As you can see, the 2021 Biotech Bear market is prolonged into 2022. Amid rising interest rates and Omicron devastation, many fundamentally robust biotech are tumbling. In the middle of this difficulty, you're most likely to find opportunities as deep-bargain stocks abound. Now that does not mean you should buy any stock. In other words, it's paramount that conduct proper due diligence before making your purchase. That being said, I'd like to revisit the growth story on Avalon GloboCare (AVCO). In the thick of the current market downturn, Avalon lost a substantial portion of its market capitalization. Due to the said volatility, I believe that there is a significant mismatch between the market valuation and the stock's intrinsic value. In this research, I'll feature a fundamental analysis of Avalon and share with you my expectation for this growth opportunity.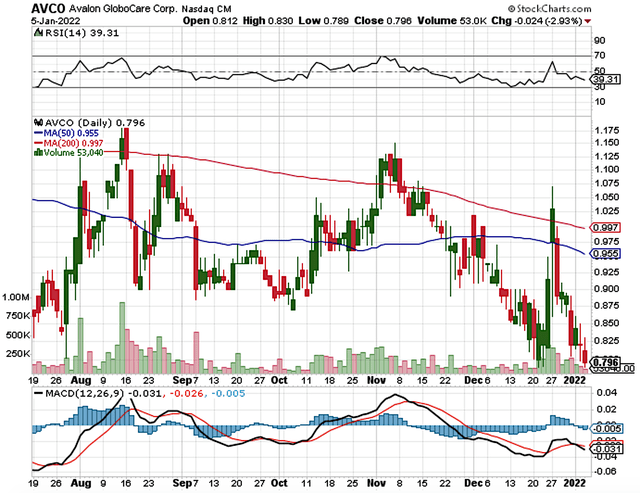 Figure 1: Avalon chart (Source: StockCharts)


About The Company
As usual, I'll deliver a brief corporate overview for new investors. If you are familiar with the firm, I suggest that you skip to the subsequent section. As you know, Avalon is a relatively new and young company. Founded as early as 2016, Avalon GloboCare already transitioned into a clinical-stage biotechnology company. With powerful therapeutics, Avalon is poised to make waves in the cellular therapy space. Though Avalon is tinkering with various types of molecules, the company is a dominant cellular therapy innovator poised to fulfill the unmet needs in cancer treatment.
In harnessing the power of smart medicines (i.e., CAR-T), Avalon is advancing a promising organic pipeline as shown below. The lead medicine (AVA001) already completed its Phase 1/2 trial in China for patients afflicted by relapsed/refractory B-cell acute lymphoblastic leukemia (i.e., R/R B-ALL). On this pathway, Avalon is advancing its development through the China FDA for AVA001. That aside, the company is innovating AVA011 for patients afflicted by relapsed/refractory B-cell lymphoblastic leukemia and non-Hodgkin lymphoma (i.e., R/R B-ALL/NHL). Furthermore, there are two COVID franchises brewing in early development.

Figure 2: Therapeutic and vaccine pipeline (Source: Avalon)
Chairman Daniel Lu's Rock Solid Commitment
When you invest in biotech, it's important to keep track of insider ownership. On this metric, Avalon insiders own a total of over 51% of the shares. As such, they are motivated to ensure the company becomes a huge success. What's even better is when insiders put their own money into a public company. After all, there is no stronger support for the stock when management puts money where their mouth is.
On that note, Chairman Lu recently converted $3.0M of debt owed to him into common stocks. Interestingly, that $3.0M constitutes only a small amount of the capital drawn from the $20.0M line of credit that the Titan Lu provides to Avalon. At $1.25 per share, the conversion price represents a 45% premium to the previous day's closing price of the stock.
In light of that development, it's a no-brainer Avalon's shares are worth far more than its current market valuation. As Avalon's management hasn't sold a single share, you can expect that they are in it for the long term. If you succeed, they succeed. If you fail, they fail. Commenting on the aforesaid development, the President and CEO (Dr. David Jin, MD, PhD) enthused,
We are grateful for our Chairman's continued support and tremendous confidence in the outlook for the business, as illustrated by his willingness to convert his loan at a significant premium to the market, thereby further strengthening our balance sheet. We continue to make rapid progress in advancing our immune effector cell therapies, including CAR-T and CAR-NK, our S-layer coated emulsion technology (SLET), our exosome-based regenerative therapeutics (MUTF:ACTEX), as well as our liquid biopsy diagnostic and drug delivery platforms. Importantly, we look forward to reporting a number of important milestones that we believe will drive significant shareholder value heading into the new year.
SenlangBio Deal Analysis
Adding further injury to the bear market's insult, Avalon disclosed that the company will not move forward with the SenlangBio acquisition. According to the company, Avalon decided to shift the focus toward organic pipeline innovation rather than acquisition. Accordingly, Avalon believes that the 80M shares needed to be raised to finance the acquisition would be excessively dilutive for the shareholders. In his own words, the esteemed Chief (Dr. Jin) clarified,
Given our rapid progress this past year, our goal for 2022 is to focus on our core programs to drive innovation and bring about advanced technologies and new medicines to patients. Towards this end, we have decided not to move ahead with the SenlangBio acquisition. Instead, we plan to focus our resources on organic growth and strategic partnership opportunities that we believe will hold the potential to drive much greater value for our shareholders, while avoiding potentially significant dilution that would have occurred with the proposed acquisition. Through strategic investments, we intend to continue to bring high-quality, high-impact programs to enrich Avalon's assets in intellectual properties, R&D, and commercialization. Overall, we believe we are extremely well-positioned to execute our growth strategy, and I am highly encouraged by the operational and financial outlook for our business.
If you're like me, you'd question why the SenlangBio acquisition is not consummated. Maybe the share price has dropped significantly since last year that the acquisition now would be substantially dilutive to the stock. Here's how that scenario makes sense. If the deal is to be consummated, Dr. Jianqiang Li of SenlangBio would receive 80M of shares of Avalon. Assuming Avalon to raise that 80M shares, that would be 50% dilutive to the current share price. In other words, it would drop Avalon's share price below $0.50.
From the seller's view, Dr. Li would only get over $32M from the deal. Putting it this way, Dr. Li is positioned to gain 50% of the merged company (i.e., currently at $64M market cap) for his 80M shares of the stock. After all, there are over 79M shares before any dilution. If you recall from the prior deal discussion, there's also an institutional bio-investor who would put in $30M for 15% of the deal. As such, if 15% of SenlangBio is worth $30M, it would not make sense for Dr. Li to sell. Simply put, he'd only earn $32M to retain 50% of SenlangBio; whereas, 50% of the deal should be worth roughly $100M. And, the merged company should be worth over $200M assuming no further growth.
Another scenario would be a technical incompatibility between the therapeutic platforms between the two companies. Moreover, the SEC might have rejected the acquisition. There have been rumors that the SEC does not look favorably upon Chinese companies entering the US markets. Keep in mind, Avalon is an American company based in New Jersey. And, Avalon simply expressed an interest in acquiring the most dominant cellular therapy innovator (SenlangBio) in Northern China.
Putting it all together, I believe in what the management said. Though you and I have the tendency to ruminate about all potential possibilities, the best solution is the most simple one, i.e., Occam Razor's rule. As such, the deal did not consummate most likely because of the substantial dilutive effect as shown by my arithmetic. As a merger/acquisition expert, I am biased in favor of growth via M/A. Consequently, I was disappointed to not see the acquisition consummated. However, that's just me. And, I don't want to bias you with my personal view on the M/A subject.
AVA001 Clinical Advancement
Shifting gears, whatever the reasons the merger did not consummate is not as important as the fact that Avalon's organic pipeline is indeed strengthened. Accordingly, you can expect that a dominant CAR-T innovator should be worth at least $1B. From the pipeline above, you can see that Avalon wrapped two CAR-T championship belts (AVA001 and AVA011) in its pipeline. As such, let us review those molecules to size up their upcoming development.

As you know, AVA001 is a CAR-T that regulates the CD28 co-stimulation pathway with CD19 target suppression. Therefore, it ramps up the body's natural defense (i.e., the immune) system while knocking out cancers with the CD19 target blockage. Back in June 2020, Avalon reported that AVA001 cleared its Phase 1 trial for patients afflicted by R/R BALL with flying colors. What's most intriguing is when you compared AVA001 against Gilead's flagship CAR-T dubbed Yescarta. Make no doubt that Yescarta - A CAR-T developed by Kite Pharma (KITE) and acquired by Gilead - is an excellent drug. Nevertheless, Yescarta only posted a 51% complete remission rate (i.e., CR) versus the 91% CR for AVA001.
Yescarta 11.6 months

median follow-up (N=101)

Yescarta 27.1 months

median follow-up (N=101)

AVA-001

1-month followup

Objective response rate (%)

72

74

Complete remission rate (%)

51

54

90

Partial remission rate (%)

21

20
Figure 3: Yescarta response rate (Source: Dr. Tran BioSci, compiled from data at yescartahcp.com)
AVA011's Transformative Development
As you recall from my prior article regarding the University of Pittsburgh Medical Center (UPMC) partnership back in August last year. In this partnership, Avalon leverages the insight and wisdom of Dr. Yen-Michael S. Hsu, M.D., Ph.D., Director of the Immunology Immunologic Monitoring and Cellular Products Laboratory (IMCPL) at UPMC Hillman, and Principal collaborator with Avalon. Through this relationship, Avalon is poised to launch its second cellular therapy (i.e., a molecule that I named the "Dragon CAR-T") for patients suffering from R/R B-ALL/NHL.
As the next-generation medicine, Dragon CAR-T employs a non-viral approach for gene-delivery (needed to make a CAR-T molecule). Hence, it's safer than traditional CAR-T therapeutics. Moreover, there is a biological safety switch for physicians to turn off the CAR-T at the first sign of potential toxicity.
As an off-the-shelf CAR-T, Dragon CAR-T is a byproduct of the combination of Avalons' FASH-CAR and mRNA technology platform. As such, the drug can be delivered to patients in 1-2 days rather than 1-2 weeks. When it comes to the battle of life and death, a week or two gained can make a huge difference for the patients. After all, you don't want the cancer cells to have time to evolve to escape immune detection. The quicker you eradicate cancer, the lesser the chances of a relapse. Looking ahead, you can expect this Dragon CAR-T to enter the clinic for the human clinical trial in mid-year.
Valuation Analysis
As you know, valuation is important because it helps you gauge how much your investment is worth. Of note, Wall Street analysts typically employ a valuation method coined Discount Cash Flows (i.e., DCF). This valuation model follows a very simple plug-and-chug approach. That aside, there are other valuation techniques such as price/sales and price/earnings. Now, there is no such thing as a right or wrong approach. The most important thing is to make sure you use the right technique for the appropriate type of stocks.
Given that developmental-stage biotech has yet to generate any revenues, I steer away from using DCF because it is most applicable for blue-chip equities. For developmental biotech, I leverage a combination of both qualitative and quantitative variables. That is to say, I take into account the quality of the drug, comparative market analysis, chances of clinical trial success, and potential market penetration. Qualitatively, I heavily rely on my intuition and forecasting experience over the years.
| | | | | |
| --- | --- | --- | --- | --- |
| Molecules and franchises | Market potential and penetration | Net earnings based on a 25% margin | PT based on 79.5M shares outstanding and 10 P/E | "PT of the part" after appropriate discount |
| CAR-T franchise | $1B (estimated based on the $11.9B acquisition of Kite by Gilead) | $250M | $31.4 | $4.71 (85% discount) |
| COVID therapeutics and vaccine | $500M (Estimated from the $29.9B COVID market) | $125M | $15.7 | $1.57 (90% discount) |
| The Sum of The Parts | | | | $6.28 per share |
Figure 4: Valuation analysis (Source: Dr. Tran BioSci)
Since that these molecules are very early in their innovation process, you should heavily discount their value. As follows, I discounted the COVID franchises by as much as 90% because there haven't been many updates in that arena. For the CAR-T segment, you saw the robust data and the anticipated further clinical development. Hence, I discounted it by only 85%.
On another note, if you view the CAR-T assets alone, Avalon is currently worth $4.71 per share, which is much higher than the current market quotation. If you look at the sum of the part valuation (SOTP), Avalon is appraised at least $6.28 per share. Perhaps, that's the reason why insiders have not sold a single share of Avalon stock. Simply put, they believe their company is worth far more than its current market valuation.
Competitor Landscape
As you can see, competitor analysis is a significant variable to consider in your investment research. Here, there are several CAR-T innovators that compete against Avalon. They are all stocks that I covered and are now acquired. One such example is Kite Pharma (KITE), a Gilead Sciences (GILD) acquisition. Another one is Juno Therapeutics (JUNO), a firm bought out by Novartis (NVS).
Keep in mind that these first-generation CAR-Ts are only capable of subduing blood cancers. With FLASH CAR and mRNA technology, Avalon can design CAR-T to attach solid tumors which is a huge competitive advantage. Beyond those companies, there are other competitors that I believe will enter this space. After all, CAR-T delivers unprecedented safety/efficacy for deadly cancers.
Potential Risks
As investment research is an imperfect science, there are always risks associated with your stocks regardless of their fundamental strength. At this point in its growth cycle, my main concern for Avalon is whether the company can continue to advance both AVA001 and AVA011. There is a risk that despite excellent earlier results, there is no guarantee that Avalon would enjoy similar clinical outcomes. The other risk is that the SenlangBio being dropped can foretell other unforeseen corporate problems. As an aggressive growth stock, Avalon might grow too rapidly and thereby run into a potential cash flow constraint.
Conclusion
In all, I revised my buy recommendation on Avalon Globocare from a 5 out of 5 to a 4.8 out of five stars rating. On the two to three years horizon, I expect the updated $6.28 PT to be reached. I also ascribed a new 65% "investment profitability score" on this stock. And, I raised Avalon's investment from a low to medium investment risk. In a nutshell, you have a strongly favorable chance of making money on Avalon, provided that you hold your shares for the long term.
From the trading view, my intuition tells me that Avalon shares will encounter strong market pressure like other biotech. And, this is related to the larger 2021 Biotech Bear market cycle rather than fundamental weakness.
| | | |
| --- | --- | --- |
| Dr. Tran BioSci's M7 Criteria | Stars Rating (Max 5 stars) | Rationale |
| Medicine and technology | 5/5 | FLASH-CAR/mRNA CAR-T (AVA001 and AVA-011) |
| Market | 5/5 | $20.3B global CAR-T market, $29.6B COVID market |
| Money | 5/5 | $20M credit facility from Chairman Lu. With its modest cash burn rate, Avalon is in a strong financial condition. |
| Management | 5/5 | Good |
| Maturity | 4/5 | Rocky transition due to the 2021 Biotech Bear market and COVID19 the delayed clinical trails |
| Must-know catalysts | 5/5 | AVA011 to hit the clinic by mid-2022 |
| Money making | 5/5 | Long-term investment |
| Overall rating | 4.8/5 | |
Figure 4: M7 Criteria (Source: pioneered by Dr. Tran with inputs for advancement from IBI colleagues)
As Avalon GloboCare has transitioned into its next growth phase, the company is sizing up various corporate strategies. One approach is to acquire other innovators. Sometimes, certain deals will bear fruits. Other times, they can cause excessive dilution to deter deal consummation. That's what you saw with the potential SenlangBio acquisition that is now being passed by Avalon's management. Going forward, the company is being laserbeam-focused on developing its organic pipeline. The next big catalyst to potentially catapult the shares beyond their former high is the clinical advancement of AVA011 into the clinics. You can expect strong results on that front. Ultimately, it will bear fruits for Avalon in the form of share price appreciation for you and hopes for patients.
As usual, I'd like to remind investors that the choice to buy, sell, or hold is always yours to make. In my view, you should hold your shares "as is" and wait to see how this market downturn affects Avalon. If you decide to average down at this market cycle, it's important to buy in small tranches to get the best average cost. Last but not least, be sure to tune into IBI for further updates.
Disclosure: I/we have no stock, option or similar derivative position in any of the companies mentioned, and no plans to initiate any such positions within the next 72 hours.
Business relationship disclosure: Due to my medical and market expertise, companies and third parties like GuidePoint Advisors hired me as a paid consultant. Though being in the industry gives me expert insight on the forefront, my views may not be completely objective. On October 4th, 2019, I established a paid consulting relationship with Avalon. In August 2020, I finished my consulting work with Avalon. In August 2021, I re-engaged my consulting relationship with Avalon. See complete disclosure and disclaimer www.drtranbiosci.com/...
Additional disclosure: As a medical doctor/market expert, I'm not a registered investment advisor. Despite that I strive to provide the most accurate information, I neither guarantee the accuracy nor timeliness. Past performance does NOT guarantee future results. I reserve the right to make any investment decision for myself and my affiliates pertaining to any security without notification except where it is required by law. I'm also NOT responsible for the action of my affiliates. The thesis that I presented may change anytime due to the changing nature of information itself. Investing in stocks and options can result in a loss of capital. The information presented should NOT be construed as recommendations to buy or sell any form of security. My articles are best utilized as educational and informational materials to assist investors in your own due diligence process. That said, you are expected to perform your own due diligence and take responsibility for your action. You should also consult with your own financial advisor for specific guidance, as financial circumstances are individualized. That aside, I'm not giving you professional medical advice. Before embarking on any health-changing behavior, make sure you consult with your own doctor.