Summary
Analyzing a company's annual report gives you a global overview of your investment.
Like other biotech, Avalon GloboCare suffered substantial depreciation during the brutal 2021/2022 Biotech Bear market.
Nevertheless, Avalon has significantly boosted its fundamentals. As such, it becomes a great long-term investment with multiple folds upside.
Leveraging on experimentation, the management refines the best practices for you. And, they are focusing on the innovation of lucrative and lifesaving cellular therapies such as CAR-T and CAR-NK.
Built on ingenious science, AVA001 delivered extremely robust data while the premier CAR-T AVA011 is poised to enter the clinic by mid-year.

There is the need for patience if big profits are to be made from investment. Put another way, it is often easier to tell what will happen to the price of a stock than how much time will elapse before it happens. The other is the inherently deceptive nature of the stock market. Doing what everybody else is doing at the moment, and therefore what you have an almost irresistible urge to do is often the wrong thing to do at all. - Phillip Fisher (Warren Buffett's mentor)
In biotech investing, you should check the annual report of your stocks because it provides you with fundamental developments for the year. By focusing on the investing fundamentals, you can size up the value of your investment. As such, you'd be able to anticipate where your stock is heading.
That being said, I'd like to revisit Avalon GloboCare (AVCO) as the company recently filed its Fiscal 2021 report. Like other biotech, Avalon suffered from the brutal Biotech Bear Market of 2021/2022. Nevertheless, various catalysts brewing in the pipeline would galvanize the shares to trade much higher going into yearend. In this research, I'll feature a fundamental analysis of Avalon and provide my expectations of this stellar growth equity.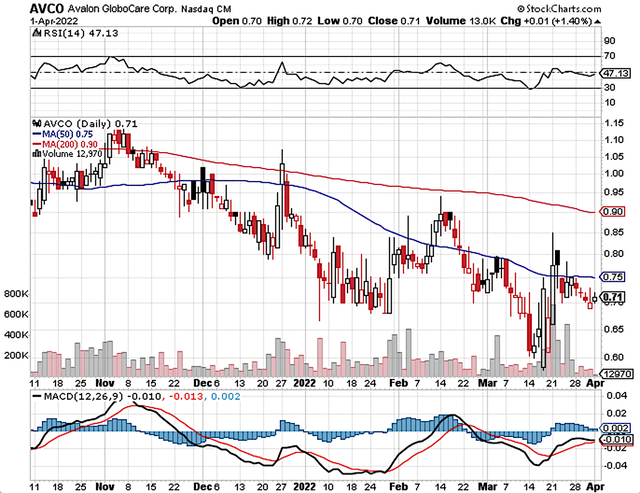 Figure 1: Avalon chart (Source: StockCharts)
About The Company
As usual, I'll deliver a brief corporate overview for new investors. If you are familiar with the firm, I suggest that you skip to the subsequent section. I noted in the prior research,
Founded as early as 2016, Avalon GloboCare already transitioned into a clinical-stage biotechnology company. With powerful therapeutics, Avalon is poised to make waves in the cellular therapy space. Though Avalon is tinkering with various types of molecules, the company is a dominant cellular therapy innovator poised to fulfill the unmet needs in cancer treatment. In harnessing the power of smart medicines (Chimeric-Antigen Receptor T-cell therapy, i.e. CAR-T), the firm is advancing a promising organic pipeline as shown below. The lead medicine (AVA001) already completed its Phase 1/2 trial in China for patients afflicted by relapsed/refractory B-cell acute lymphoblastic leukemia (i.e., R/R B-ALL). On this pathway, Avalon is advancing its development through the China FDA for AVA001. That aside, the company is innovating AVA011 for patients afflicted by relapsed/refractory B-cell lymphoblastic leukemia and non-Hodgkin lymphoma (i.e., R/R B-ALL/NHL). Furthermore, there are two COVID franchises in early development.

Figure 2: Therapeutic and vaccine pipeline (Source: Avalon)
Scientifically/Medically Esteemed Management
If you've been following my research on Avalon, you'd realize that the company owns a vast number of early-stage assets. That includes Stem cell-derived Avalon Clinical-grade Tissue-specific Exosomes (i.e., ASTEX), QTY code protein design platform (i.e., AVA-Trap), COVID-vaccine using S-layer technology, and various CAR-Ts. Now, you'd be wondering why a young company like Avalon explores such a breadth of therapeutic and diagnostic arenas. The answer is quite simple, and it resides in the ingenious management.
As a world-class physician-scientist, the Executive Director and CEO of Avalon (Dr. David Jin), is scientifically and medically oriented. Specifically, Dr. Jin has been the Principal investigator for over 15 pre-clinical and clinical trials. That aside, he authored/co-authored over 80 peer-reviewed scientific abstracts, articles, reviews, and book chapters. Prior to leading public companies (i.e., Avalon and BioTime), Dr. Jin was the tenured faculty at the New York-Presbyterian Hospital (i.e., the teaching hospital for both Cornell and Columbia Universities). The good doc was also recognized as the Leading Physician of the World in 2015 and Top Chief Medical Officer by ExecRank in 2012.
With all the scientific and medical accolades, you can appreciate why Dr. Jin loves to experiment to refine the best practice for Avalon. Through experimentation, Dr. Jin would know which therapeutics/diagnostics to focus on, and what works and what doesn't. That way, he can best serve you (the shareholder) and deliver lifesaving meds to patients.
The Renaissance man Leonardo DaVinci (another physician-scientist) said it best, "We must consult experiment, varying the circumstances, until we have deduced general rules, for experiment alone can furnish reliable rules." Simply put, science and experimentation let you know what's best. Guided by experimentation, I believe that the Chief is now focused on cellular therapy as part of Avalon's 2.0 growth.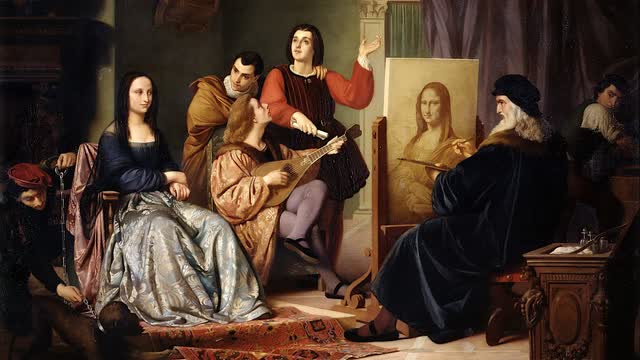 Figure 3: Leonardo DaVinci painting the Mona Lisa (Source: The Atlantic)
Capturing The Future of Medicine - Cellular Therapy Focus
You can see that it makes sense for Avalon to focus on cellular therapy because this is "the future of medicine." For instance, research from Deloitte demonstrated that cell (and gene therapies) have quickly emerged as transformative innovations in recent years.
Notably, cellular therapies like Yescarta of Kite Pharma (KITE) were commenced for cancer treatment. Over the years, cellular therapies have spanned beyond oncology to serve other fields such as neurology, ophthalmology, and even infectious disease (i.e., COVID treatment). Of the 1K cell and/or gene therapy clinical trials, there would be up to 60 new therapeutics to be approved within the next decade.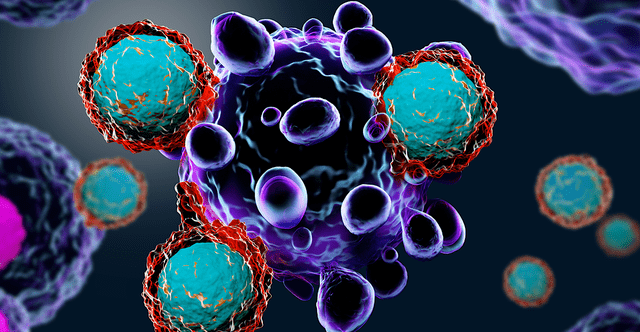 Figure 4: Cellular therapy (Source: GW Cancer Center)
Enjoying strong industry tailwinds, the global cell therapy market is growing at a 14.5% CAGR to reach $23B by 2028. Such catalysts powering this growth include increasing research and development (R&D) and the rising prevalence of cancer, musculoskeletal disorders, and heart, neurological as well as autoimmune diseases. There is also a heightened awareness which leads to stronger demand and more commercialization of cellular therapies. On top of the collaboration between government, universities, and companies, you can expect that R&D progress would be galvanized to an unprecedented level.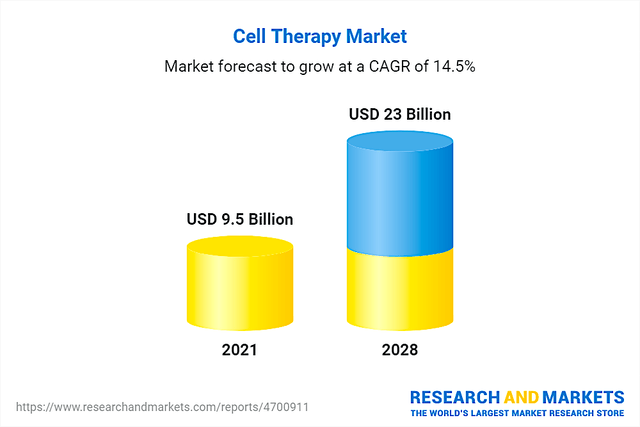 Figure 5: Estimated cellular therapy market (Source: ResearchAndMarkets)
Leveraging Ingenious Minds of World-class Institutions
As you can imagine, harnessing the ingenious minds of world-class talents is a prudent and highly sophisticated way to yield leaping growth. In other words, the company can harness the wisdom gained by experts who already honed their skills over the decades. The combined wisdom of the company becomes far more powerful than that of anyone alone.
In deploying the aforesaid intelligent approach, Avalon entered into a collaborative R&D relationship with Yen-Michael S. Hsu, M.D., Ph.D. to innovate the next-generation mRNA-based CAR-T coined FLASH-CAR. As the Director of the Immunologic Monitoring and Cellular Products Laboratory (IMCPL) at the University of Pittsburgh (UPMC)'s Hillman Cancer Center, Dr. Hsu would be the Principal Investigator of this collaborative project with Avalon.
Back in 2019, Avalon also formed a crucial collaboration with the Massachusetts Institute of Technology (i.e., MIT) to co-develop the AVA-Trap therapeutic program. Using the unique QTY code protein design for AVA-Trap, Avalon and MIT professors (Robert S. Langer and Shuguang Zhang) captured lightning in a bottle to deliver six different water-soluble variant cytokine receptors. These proteins gained the ability to bind to their targets in a water-based environment (says in the blood), which confers them with strong therapeutic properties.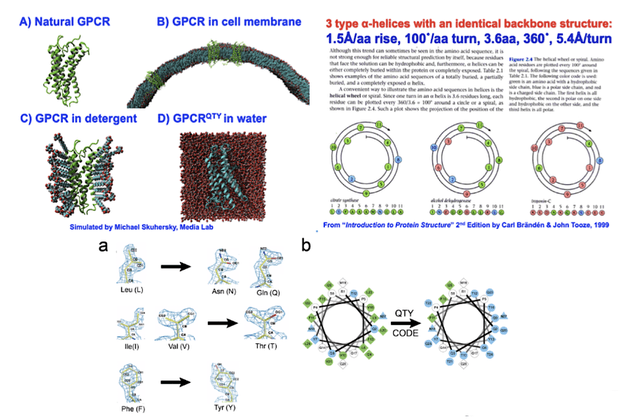 Figure 6: QTY Protein Code design (Source: MIT)
Early testing demonstrated excellent binding affinity to respective cytokines. This might not mean much to you right now, as it's in early-stage development. Nevertheless, the QTY code has a breadth of utility in cytokine release syndrome (for COVID), leukemia, and other immunotherapy applications. And, you're likely to enjoy the fruits of their development in the coming years.
That aside, Avalon formed a strategic partnership with the University of Natural Resources and Life Sciences (BOKU) in Vienna, Austria. In this collaboration, Avalon can galvanize an S-layer vaccine (to be delivered via the nose or mouth) for COVID. Even after the pandemic subsides, you can imagine that Avalon has the capability to innovate other S-layer vaccines (should the company choose to). In other words, I believe that Avalon can make any vaccine (or any other QTY protein code molecule) because of its relationship and intellectual resources.
AVA011 FLASH-CAR To Enter The Market By Mid-Year
Shifting gears, let us take a closer look at Avalon's next-generation CAR-T. As you can appreciate, even the first-generation CAR-T like Kymriah and Yescarta already offers good efficacy and safety for patients. Notwithstanding, the bio-process for delivering a conventional (i.e., autologous) CAR-T can be quite complex and cumbersome. Several steps are required. They include harvesting the T-cells from the patients, modifying them genetically, and reintroducing them back into the patient.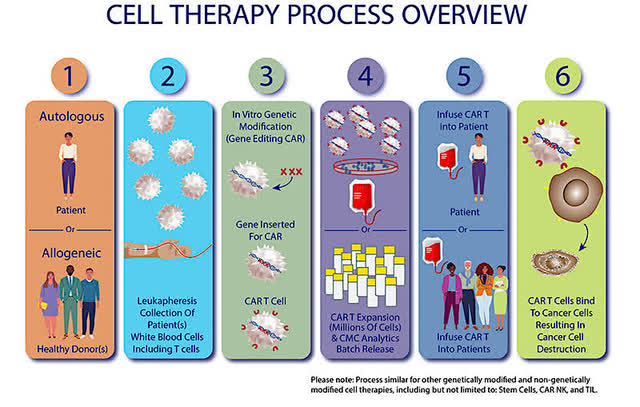 Figure 7: CAR-T innovation process (Source: Eurofins)
Like an Olympian versus a weekend-warrior, FLASH-CAR wrapped the championship belt of tremendous advantages around its waist compared to conventional counterparts. Viewing the figure above (i.e., the bottom half), you can see that FLASH can be manufactured from a universal donor (i.e., allogeneic) to expedite the process. Instead of taking 1-2 weeks, FLASH-CAR can be introduced to patients in a matter of 1-2 days. Using a non-viral approach for gene delivery, FLASH-CAR offers improved efficacy/safety and expedited delivery. Due to its cost-efficient manufacturing, this uncanny CAR-T can be given to patients at a deep discount to improve access.
As you know, FLASH-CAR is one of the most powerful cellular therapy known to men. As soon as its advancement kicks into high gear, you can anticipate Avalon's fundamentals to improve by leaps and bounds. Consequently, the share price will follow. However, when it rallies is an imprecise forecast. After all, investment research is an imperfect science. Hence, it could appreciate either next month or next year.
What is more certain is that AVA011 (i.e. a FLASH-CAR) will enter the clinic by mid-year. You only have to wait two short months from now to see that unfolding catalyst. Of course, COVID may slow down the delivery to patients. Keep your fingers crossed here. If it enters the clinics on schedule, the stock is likely to shoot up.
Expansion Beyond CAR-T With CAR-NK
If you view Avalon from the lenses of a physician-scientist, you can see why Dr. Jin decided to deliver more innovation through experimentation with another CAR-medicine. Precisely speaking, Avalon announced on February 14 that the company is advancing CAR-Natural Killer cells (i.e., CAR-NK). Like Avalon's other CAR assets, this CAR-NK is designed to tackle both blood cancers and solid tumors which epitomizes the paradigm shift from conventional CAR-Ts. As you can imagine, it's best to leave no rocks (i.e., CAR-meds) unturned.
I know you're most familiar with T-cells because they are analogous to the "Generals" of your body's natural defense (i.e., immune) system. Like the Navy Seals, NK-cells are also extremely important in the direct killing and memory (i.e., intelligence) procuring for your immune system. From the figure below, you can see that NK easily binds to various cancer targets and destroys these rogue cells directly. The example below illustrates the binding of the CD16 target. Notwithstanding, there are many targets like CD19, CD123, etc, to confer CAR-NK with great therapeutic versatility.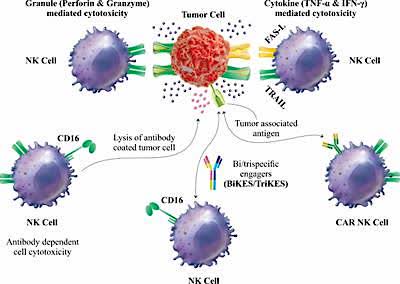 Figure 8: NK cells direct killing of cancer (Source: Frontiers In Oncology)
Along with the addition of a CAR-NK to the pipeline, Avalon onboarded a world-class therapeutic innovator/NK expert (Dr. Dongfang Liu), who is the Associate Professor and Director of the Immunoassay Development Program at Rutgers University Medical school. Riding on Dr. Liu's expertise, there are significant advantages to a successful innovation of novel CAR-NKs.
Lu Daopei Hospital Network For Rapid Clinical Deployment
Beyond deepening the talent pool, it's interesting to note that Avalon has an "under-appreciated asset." That is to say, the company has a great relationship with the premier Lu Daopei Hospital network in China. Now, most investors are not familiar with this hospital system. Similar to the MD Anderson of America, Lu Daopei has the largest and best CAR-T treatment center in the world in terms of patient volume.
Specifically, Lu Daopei has treated over 1153 patients with CAR-T. Remarkably, most patients are enjoying over 90% complete response rate. Essentially, Avalon has the advantages of Lu Daopei to rapidly launch clinical trials. And, that would profit you as an investor while giving countless patients the hope of conquering their cancer.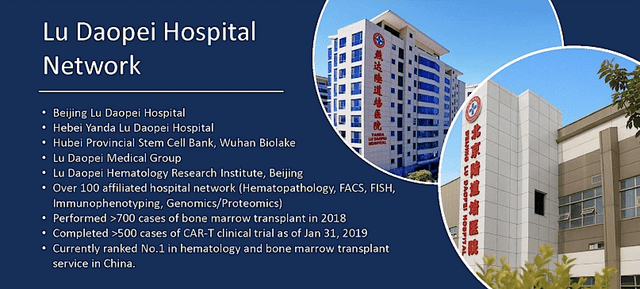 Figure 9: Lu Daopei Hospital network (Source: Avalon)
AVA001 Stellar Early Results
All the sound science and medicine don't mean much without concrete data. On this metric, Avalon already secured a huge victory in the AVA001 franchise. If you recall, AVA001 is Avalon's CAR-T that simultaneously hits two targets. The first is to stimulate the CD28 pathway to boost the immune system while suppressing the CD19 target on cancer cells. With such co-stimulation, AVA001 ramps up the immune system to deliver uncanny therapeutic efficacy. And, this built-in combination therapy also fits within the cornerstone of prudent cancer treatment.
From the figure below, you can appreciate the extremely robust Phase 1 trial data of AVA001 for patients afflicted by R/R BALL. The results are clearly superior to Yescarta, another good CAR-T. You can see that Yescarta posted a 51% complete remission rate (i.e., CR) versus the 91% CR for AVA001. As the clinical studies for AVA001 continue, you can project the response rate for AVA001 to trend down because cancer cells mutate over time. Nevertheless, the results would still be robust (and better than Yescarta) which is expected of Avalon's smart medicines.
Yescarta 11.6 months

median follow-up (N=101)

Yescarta 27.1 months

median follow-up (N=101)

AVA-001

1-month followup

Objective response rate (%)

72

74

Complete remission rate (%)

51

54

90

Partial remission rate (%)

21

20
Figure 10: Yescarta response rate (Source: Dr. Tran BioSci, compiled from data at yescartahcp.com)
Potential Merger and Acquisition
If you're familiar with my work beyond IBI, you know that I run a healthcare acquisition company coined High Performance Healthcare, Inc. Therefore, I am biased toward merger and acquisition (M/A) as the most aggressive form of growth. Like you, I was initially disappointed last year when Avalon announced that the company would not go forward with the SenlangBio acquisition.
Nevertheless, I reflected on the event and it dawned on me that Avalon's Chief loves to experiment (even with M/A). As such, it's most likely that Dr. Jin didn't move forward with the M/A because it would substantially dilute the value of your shares. In this situation, the experiment proved that the deal is not favorable. Looking ahead, there is a possibility that Avalon would acquire other companies to boost further growth (provided that the deal is favorable). As you can see, one experiment proved not worthwhile yet the others might be a bonanza. According to the Fiscal 2021 filing,
We seek to develop new business through relationships driven by our senior management, which have extensive contacts throughout the healthcare system. Our senior management will be seeking opportunities for joint ventures, strategic relationships and acquisitions in consulting, biomedical innovations, laboratory, and medical device companies.
Competitor Landscape
Regarding competition, Avalon is squaring up against established companies as well as emerging innovators. Notable players include Yescarta, Kymriah, Tecartus, Carvytkti, Breyanzi, and Abecma. As you know, the two companies - Kite Pharma (KITE) and Juno Therapeutics (JUNO) and their respective drugs, Yescarta and Kymriah - that I covered are correspondingly acquired by Gilead (GILD) and Celgene (CELG). Interestingly, Celgene then got bought out by Novartis (NVS). Given the high interest in M/A, perhaps Avalon would be bought out in the future. However, you should not make your investment based on M/A speculation.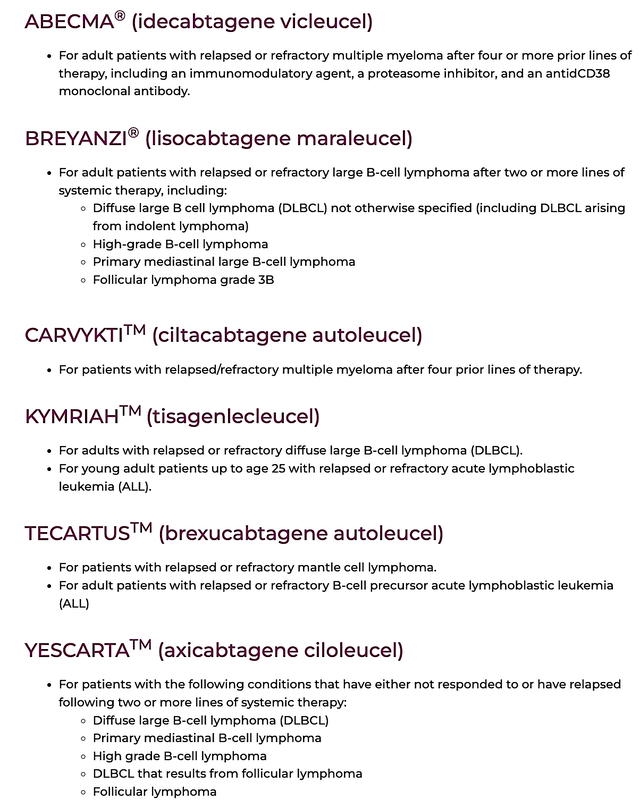 Figure 11: Approved CAR-Ts (Source: Hillman Cancer Center)
Besides CAR-T, Avalon is competing against many other innovators that are developing their CAR-NKs. In light of the gargantuan $28B cellular therapy market, you can bet that there is plenty of room for many molecules. Since Avalon's CAR-T/NKs are superior to conventional counterparts, these Dragon CAR-Ts would garner a much higher market share.
Valuation Analysis
It's important that you appraise Avalon to determine how much your shares are truly worth. Before running our figure, I liked to share with you the following:
Wall Street analysts typically employ a valuation method coined Discount Cash Flows (i.e., DCF). This valuation model follows a simple plug-and-chug approach. That aside, there are other valuation techniques such as price/sales and price/earnings. Now, there is no such thing as a right or wrong approach. The most important thing is to make sure you use the right technique for the appropriate type of stocks.

Given that developmental-stage biotech has yet to generate any revenues, I steer away from using DCF because it is most applicable for blue-chip equities. For developmental biotech, I leverage the combinations of both qualitative and quantitative variables. That is to say, I take into account the quality of the drug, comparative market analysis, chances of clinical trial success, and potential market penetration. Qualitatively, I rely heavily on my intuition and forecasting experience over the decades.
| | | | | |
| --- | --- | --- | --- | --- |
| Molecules and franchises | Market potential and penetration | Net earnings based on a 25% margin | PT based on 79.5M shares outstanding and 10 P/E | "PT of the part" after appropriate discount |
| CAR-T franchise | $1B (estimated based on the $11.9B acquisition of Kite by Gilead) | $250M | $31.4 | $4.71 (85% discount) |
| CAR-NK | $260M (estimated based on the potential $5.0B market) and the relative value of 26% TAM of the CAR-T franchise | $65M | $8.17 | $1.27 (85% discount) |
| COVID therapeutics and vaccine | $500M (Estimated from the $29.9B COVID market) | $125M | $15.7 | $1.57 (90% discount) |
| The Sum of The Parts | | | | $7.55 |
Figure 12: Valuation analysis (Source: Dr. Tran BioSci)
Potential Risks
As investment research is an imperfect science, there are always risks associated with your stocks regardless of their fundamental strength. At this point in its growth cycle, the main concern for Avalon is whether the company can continue to progress AVA001, AVA011, and CAR-NK assets. Regardless of extremely robust early data, there is always a risk that AVA001 might not be able to replicate prior success. The same is true for other franchises.
Being a small and aggressive growth company, Avalon might grow extremely rapidly and thereby runs into a potential cash flow constraint. Be that as it may, Avalon has a firm capital commitment from Chairman Daniel Lu.
Conclusion
In all, I maintain my strong buy recommendation on Avalon GloboCare with the 4.8 out of 5 stars rating. On the two to three years horizon, I expect the $7.55 price target (i.e., PT) to be reached. Now, the stock could reach its PT sooner, depending on how long the Biotech Bear market would last. I also ascribed a 70% "investment profitability score" to this investment. And, I graded Avalon as a medium investment risk. In a nutshell, you have a strongly favorable chance of making money on Avalon, provided that you hold your shares for the long term.
From the trading view, Avalon shares are breaking the bearish trend to regain their momentum. As more momentum is amassed, you are likely to see the stock leap in its share price to surpass the former high. Nevertheless, the when can be tricky.
| | | |
| --- | --- | --- |
| Dr. Tran BioSci's M7 Criteria | Stars Rating (Max 5 stars) | Rationale |
| Medicine and technology | 5/5 | FLASH-CAR/mRNA CAR-T (AVA001 and AVA-011) and CAR-NK |
| Market | 5/5 | $19.1B global CAR-T market, $29.6B COVID market; $5.0B global CAR-NK market |
| Money | 5/5 | $20M credit facility from Chairman Lu. With its modest cash burn rate, Avalon is in a strong financial condition. |
| Management | 5/5 | Excellent |
| Maturity | 4/5 | Rocky transition due to the 2021 Biotech Bear market and COVID19 can delay clinical trials |
| Must-know catalysts | 5/5 | AVA011 to hit the clinic by mid-2022; recent advancement of CAR-NK |
| Money making | 5/5 | Long-term investment |
| Overall rating | 4.8/5 | |
Figure 13: M7 Criteria (Source: pioneered by Dr. Tran with inputs for advancement from IBI colleagues)
Avalon GloboCare is now advancing aggressively in a 2.0 Growth Phase to solidify its reputation as the Premier Global Cellular Therapy Innovator. The seasoned physician-scientist (Dr. Jin) is continuing to experiment, thus refining the best practices for you. Currently, the Chief is advancing both CAR-T and CAR-NK. With AVA001's strong Phase 1 data, you can project similar results for the other Dragon CAR-T (AVA011) that will enter clinics by mid-year. Asides from unlocking tremendous value for the shareholder, the aforesaid catalyst would deliver hope to patients. Though Avalon took a pass on the SenlangBio acquisition, I predict that there is a good chance the company would acquire another company in the future.
Along with Dr. Jin, the illustrious Chairman Lu is putting his money where his mouth is. The Titan Lu provided Avalon with $20M of his own capital in the form of a credit line. Due to his confidence in Avalon, the Chairman does not require the company to pay back debts. Instead, he converted it into more shares as a vote of confidence for you. Through their action, you can see that this management is working for the benefit of the shareholders. Their action is completely aligned with their interest because they also hold the majority of shares. It's rare in biotech to see management keep buying instead of selling, which is a huge vote of confidence.
Your task as an investor is to follow various developments, especially those pertaining to the CAR-T/NK assets. Pay attention to AVA011 which will be delivered to patients in the U.S. soon. Beyond an investment, I strongly believe that Avalon's medicine will deliver hope to countless patients worldwide.
As usual, I'd like to remind all investors that the choice to buy, sell, or hold is always yours to make. In my view, you should average down if you haven't done so. Now is a prime opportunity to pick up more shares of Avalon at a deep discount. After you purchase, wait until you receive multiple-fold gains on your investment. It's highly unlikely that Avalon will ever trade at this low valuation again.
Disclosure: I/we have no stock, option or similar derivative position in any of the companies mentioned, and no plans to initiate any such positions within the next 72 hours.
Business relationship disclosure: Due to my medical and market expertise, companies and third parties like GuidePoint Advisors hired me as a paid consultant. Though being in the industry gives me expert insight on the forefront, my views may not be completely objective. On October 4th, 2019, I established a paid consulting relationship with Avalon. In August 2020, I finished my consulting work with Avalon. In August 2021, I re-engaged my consulting relationship with Avalon. See complete disclosure and disclaimer www.drtranbiosci.com/...
Additional disclosure: As a medical doctor/market expert, I'm not a registered investment advisor. Despite that I strive to provide the most accurate information, I neither guarantee the accuracy nor timeliness. Past performance does NOT guarantee future results. I reserve the right to make any investment decision for myself and my affiliates pertaining to any security without notification except where it is required by law. I'm also NOT responsible for the action of my affiliates. The thesis that I presented may change anytime due to the changing nature of information itself. Investing in stocks and options can result in a loss of capital. The information presented should NOT be construed as recommendations to buy or sell any form of security. My articles are best utilized as educational and informational materials to assist investors in your own due diligence process. That said, you are expected to perform your own due diligence and take responsibility for your action. You should also consult with your own financial advisor for specific guidance, as financial circumstances are individualized. That aside, I'm not giving you professional medical advice. Before embarking on any health-changing behavior, make sure you consult with your own doctor.