Summary
Amid the biotech bear market, many fundamentally robust companies are trading at dimes on the dollars.
During this special buying opportunity, I continue my research to feature to you the best stocks to buy and average down.
If you are patient to wait for the next few years, a company like Avalon GloboCare has the best potential to give you multiple fold upsides.
Among significant fundamental advancements, Avalon recently strengthened its intellectual properties with another 16 patents filed.
Intellectual property protection is reflective of upcoming growth and the management's diligence in protecting your best interest.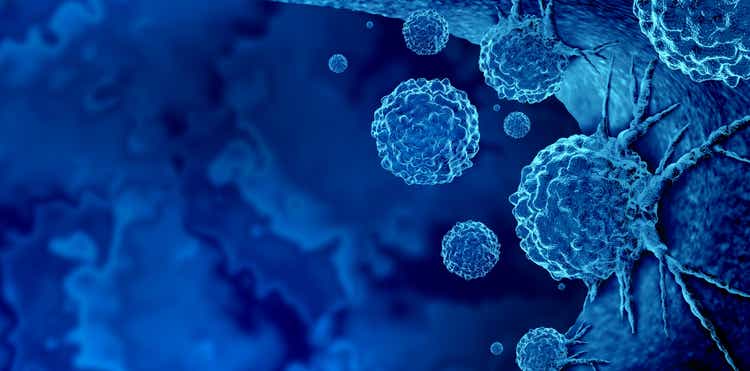 Be fearful when others are greedy. Be greedy when others are fearful. - Warren Buffett
Investing in early-stage biotech has its special rewards. First, you're supporting the therapeutic innovation that delivers hope and saves lives. Who knows, one day you might need such a drug for yourself or your loved ones. Second, you have the opportunity to enjoy multi-bagger profits due to the growth prospects. You simply cannot get that in blue-chip equity investing where your best wish is to get a bargain. Now, there is a sacrifice for all things worthwhile in life. That is to say, you'd have to deal with the high volatility associated with your bio-stocks. Sometimes, you'd have to wait for longer than usual for your investment to appreciate. And, the wait can test your patience to the extreme.
That being said, there is a sleeping dragon that is Avalon GloboCare (AVCO). Like many other stocks, Avalon's shares have been pummeled during the 2021/2022 Biotech Bear market. Nevertheless, I strongly believe that Avalon would rebound in the future due to its powerful medicine and robust fundamental advancements. One such development is the expansion of its intellectual property. In this research, I'll feature a fundamental analysis on Avalon and share with you my expectation on this stellar growth equity.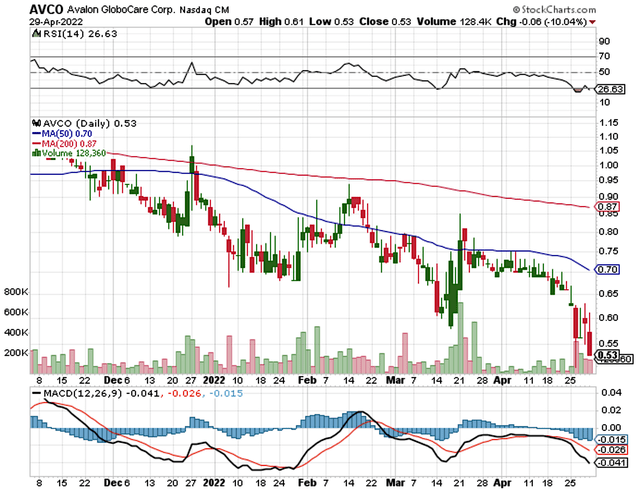 Figure 1: Avalon chart
About The Company
As usual, I'll deliver a brief corporate overview for new investors. If you are familiar with the firm, I suggest that you skip to the subsequent section. I noted in the prior research,
Founded as early as 2016, Avalon GloboCare already transitioned into a clinical-stage biotechnology company. With powerful therapeutics, Avalon is set to make waves in the cellular therapy space. Though Avalon is tinkering with various types of molecules, the company is a dominant cellular therapy innovator that is poised to fulfill the unmet needs in cancer treatment. In harnessing the power of smart medicines (Chimeric-Antigen Receptor T-cell therapy, i.e. CAR-T), the firm is advancing a promising organic pipeline as shown below. The lead medicine (AVA001) already completed its Phase 1/2 trial in China for patients afflicted by relapsed/refractory B-cell acute lymphoblastic leukemia (i.e., R/R B-ALL). On this pathway, Avalon is advancing its development through the China FDA for AVA001. That aside, the company is innovating AVA011 for patients afflicted by relapsed/refractory B-cell lymphoblastic leukemia and non-Hodgkin lymphoma (i.e., R/R B-ALL/NHL). Furthermore, there are two COVID franchises in early development.

Figure 2: Therapeutic and vaccine pipeline
Building A Wide And Deep Moat
As you can see, Berkshire Hathaway (BRK) recently held its annual meeting (which is like the Woodstock of capitalism). As such, I found it appropriate to use Warren Buffett's teaching to hammer an important biotech investing principle that applies to Avalon. That is to say, the investing icon (Buffett) strongly encourages you to focus on companies having a "moat."
Now, I first learned about Buffett and his stellar partner (Charlie Munger) many years ago when I was a student. Back in the day, people criticized Buffett for being so stingy. Specifically, Buffett has not made any meaningful donation up to that point. For a multi-billionaire, the Oracle of Omaha (Buffett) was also quite modest in his spending. For instance, he lived in the same old house that he bought decades ago. What I found impressive was that people misunderstood Buffett. He simply wanted to invest his money to grow it into a gargantuan amount before making his big donation. At that point, I started to learn more about Buffett and his various investing strategies like buying companies that have the aforesaid moat.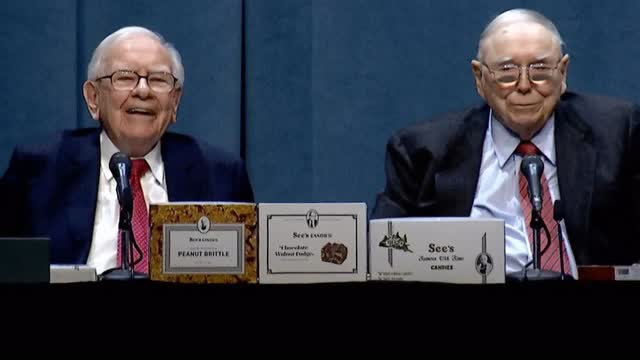 Figure 3: Buffett and Munger at Berkshire 2022 annual meeting
Here's how Buffet elucidated the important investing concept of a moat. According, the Oracle describes his ideal investment (i.e., a stock or business) as a metaphoric castle that is surrounded by a moat of water. Underneath the water, Buffet wants to have the crocodiles swimming around. He also wants the moat to be as wide and deep as possible to deter competitors. That way, Buffet can sleep comfortably at night, knowing that the innovation and future profits would be protected.
As a life science investor, the great news for you is that biotech companies typically reign supreme when it comes to the business moat. As you can appreciate, once a drug gains FDA approval it has certain periods of exclusivity (depending on the type of marketing application). On top of the exclusivities, the drugs/technologies also have their patent protection. Due to this superb protection, biotech companies usually give you the best moat.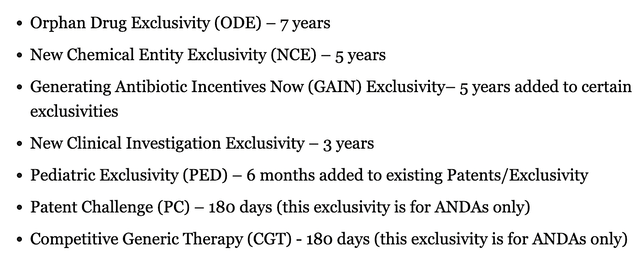 Figure 4: FDA's exclusivity periods
Strengthening Intellectual Property Protection
Shifting gears, let us analyze the specific competitive advantages for Avalon. After all, not all biotech's moats are created equal. Certain companies like Avalon tend to have a much stronger moat. That made sense because Avalon is focused on innovating novel breakthrough therapeutics, diagnostics, and technologies that are much more valuable than, say, biosimilars. Consequently, there is a much stronger need to have a wide and deep moat through intellectual property (i.e., IP) protection to keep competition at bay. Simply put, you do not want a biotech company to successfully develop its technologies/drugs only for competitors to take the fruits of your labor.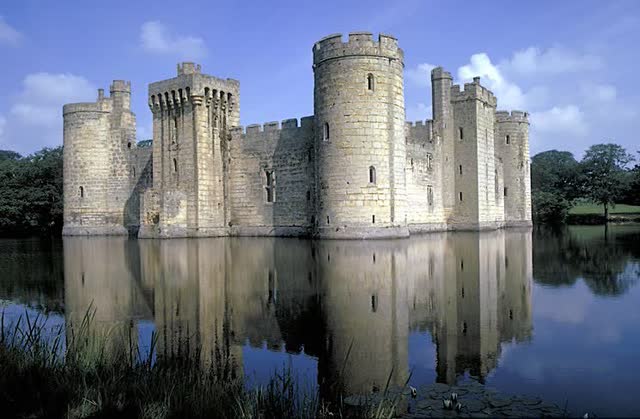 Figure 5: Castle with a wide and deep moat
As follows, Avalon recently issued a press release detailing the company's extremely robust IP expansion. In collaboration with strategic partners (i.e., a top-5 U.S. University, a leading European education/research center, and a premier global developer of cellular therapies for cancer), Avalon has jointly filed 16 new patents with appropriate international authorities.
They include the U.S. Patent and Trademark Office (i.e., USPTO) and the China National Intellectual Property Administration (CNIPA). Under the Patent Cooperation Treaty, Avalon would enjoy a broad coverage spanning 36 countries. Commenting on the fundamental advancement, the esteemed President and CEO (David Jin, M.D., Ph.D.) enthused,
These latest patent applications solidify and expand our robust IP portfolio, both in the U.S. and internationally. We are especially honored to partner with several leading global academic researchers and institutions in the field of cell therapy, as co-inventors of the technologies. We believe these patent applications will extend our geographic IP protection and are timed to maximize the duration of the patents for decades to come. These patents are within our core competencies in the areas of CAR-T, QTY protein design and S-layer technologies, thereby enhancing our position as a leader in immuno-oncology and cellular medicines. Collectively, we believe each of these patents covers therapies and technologies that target large, addressable markets. They are all supported by strong preclinical data as we rapidly advance towards first-in-human clinical trials.
In resonating with the wisdom of the Chief (Dr. Jin), you can appreciate that this development potentially signals aggressive upcoming expansion. And, the company is putting its best efforts to ensure that all core technologies are protected globally and for the longest duration possible. Therefore, this fundamental development is reflective of the management's strong confidence in Avalon's protection and growth.
As IP expansion is an important catalyst, let us analyze it in greater detail. As you know, the additional patents seek to provide protection relating to the company's core assets. For instance, one of the main protections entails coverage regarding Avalon's CAR-T molecules. That is to say, the patents would yield an extremely strong moat for Avalon's mRNA-based Flash-CAR cellular therapy technology platform.
If you recall, Avalon's Flash-CAR has tremendous advantages over conventional cellular therapies. Leveraging mRNA-based technology for gene transfer, Flash-CAR confers a superior efficacy and excellent safety profile over virally-delivered counterparts. Moreover, the Flash-CAR treatment process can be easily accomplished in one to two days instead of two weeks long.
Moreover, Avalon's uncanny cellular therapies can be massively produced at a much lower price. Due to a deep discount, Avalon has the potential to deliver its stellar medicines to a massive number of patients on a global scale. Putting all that together, you're looking at a platform technology that is light years ahead of the competition. As such, it made sense for Avalon to build a larger moat and thereby boosted its IP.
Aside from the coverage for Flash-CAR/CAR-T, the other filings are focused on the QTY protein design. As you know, this is a water-soluble cytokine/chemokine decoy receptor therapeutic having vast clinical applications. One such utility is to subdue the cytokine storm associated with COVID. Another potential utility is to broaden the therapeutic targets for Avalon's CAR medicines.
As they advance what is good to "great," Avalon bunkers its IP protection for the S-layer coated emulsome technology (i.e., SLET)-derived fusion proteins. Notably, this technology can trigger strong protective immune responses. As a result, it can be translated into a broad range of clinical applications. As a molecular-GPS (i.e., a biological guiding device), SLET proteins can be used to assist the delivery of therapeutic payloads to cancer cells. With such powerful technology, you can see why Avalon broadened their IP protections.
If you're reading the tea leaves like me, you can imagine that the IP expansion also foretells upcoming growth. My general rule-of-thumb is that an aggressive growth company usually has more IP protection. Hence, you want an innovator like Avalon to expand its IP over time. With more pipeline advancement, there is a demand for additional IP protections. Seeing the various IP expansion as elucidated, you can forecast future growth and developments to come.
Competitor Landscape
Though Avalon has strong IP protection, you still want to assess the competition. Accordingly, Avalon goes toe-to-toe against conventional biopharma as well as upcoming players. That is to say, Avalon's drugs compete against many other molecules (both approved and in development). Examples of approved cellular therapies include Yescarta, Kymriah, Tecartus, Carvytkti, Breyanzi, and Abecma. You also have other CAR-NK and CAR-macrophage in development.
Regardless of the competitive pressure, the cellular therapy market is huge (i.e, $28B). As such, there is plenty of room for multiple blockbusters. Having Avalon's stellar CAR-Ts and esteemed management (who put their money where their mouth is), you can be confident that Avalon would easily trump competitors.
Valuation Analysis
It's important that you appraise Avalon to determine how much your shares are truly worth. Before running our figure, I liked to share with you the following:
Wall Street analysts typically employ a valuation method coined Discount Cash Flows (i.e., DCF). This valuation model follows a simple plug-and-chug approach. That aside, there are other valuation techniques such as price/sales and price/earnings. Now, there is no such thing as a right or wrong approach. The most important thing is to make sure you use the right technique for the appropriate type of stocks.

Given that developmental-stage biotech has yet to generate any revenues, I steer away from using DCF because it is most applicable for blue-chip equities. For developmental biotech, I leverage the combinations of both qualitative and quantitative variables. That is to say, I take into account the quality of the drug, comparative market analysis, chances of clinical trial success, and potential market penetration. Qualitatively, I rely heavily on my intuition and forecasting experience over the decades.
| | | | | |
| --- | --- | --- | --- | --- |
| Molecules and franchises | Market potential and penetration | Net earnings based on a 25% margin | PT based on 79.5M shares outstanding and 10 P/E | "PT of the part" after appropriate discount |
| CAR-T franchise | $1B (estimated based on the $11.9B acquisition of Kite by Gilead) | $250M | $31.4 | $4.71 (85% discount) |
| CAR-NK | $260M (estimated based on the potential $5.0B market) and the relative value of 26% TAM of the CAR-T franchise | $65M | $8.17 | $1.27 (85% discount) |
| COVID therapeutics and vaccine | $500M (Estimated from the $29.9B COVID market) | $125M | $15.7 | $1.57 (90% discount) |
| The Sum of The Parts | | | | $7.55 |
Figure 6: Valuation analysis (Source: Dr. Tran BioSci)
Potential Risks
As investment research is an imperfect science, there are always risks associated with your stocks regardless of their fundamental strength. At this point in its growth cycle, the main concern for Avalon is whether the company can continue to advance various pipeline assets (i.e., AVA001, AVA011, and CAR-NK assets). In spite of extremely strong early data of AVA001, there is no guarantee that it can replicate prior success.
The same is true for all franchises. That's simply how the therapeutic process works. In other words, the risks are always there. As an aggressive growth company, Avalon might grow extremely rapidly and thereby runs into a potential cash flow constraint. Notwithstanding, Avalon has a firm capital commitment from Chairman Daniel Lu.
Conclusion
In all, I maintain my strong buy recommendation on Avalon GloboCare with a 4.8/5 stars rating. On the two to three years horizon, I expect the $7.55 price target (i.e., PT) to be reached. Now, the stock could reach its PT sooner, depending on how long the 2021/2022 Biotech Bear market would last. I also raised the "investment profitability score" from 70% to 75%. And, I graded Avalon as a medium investment risk. In a nutshell, you have an extremely favorable chance of making money on Avalon, provided that you hold your shares for the long term.
From the trading view, Avalon shares recently tumbled. Notwithstanding, I believe that once the bear market is dialed down, the stock will regain its momentum. However, the share price is dictated by market sentiment. As such, you should check back into IBI for regular updates.
Dr. Tran BioSci's M7 Criteria

Stars Rating (Max 5 stars)

Rationale

Medicine and technology
5/5
FLASH-CAR/mRNA CAR-T (AVA001 and AVA-011) and CAR-NK
Market
5/5
$19.1B global CAR-T market, $29.6B COVID market; $5.0B global CAR-NK market
Money
5/5

$20M credit facility from Chairman Lu. With its modest cash burn rate, Avalon is in a strong financial condition.

Management
5/5
Excellent
Maturity
4/5
Rocky transition due to the 2021 Biotech Bear market and COVID19 can delay clinical trials
Must-know catalysts
5/5

AVA011 to be advanced into the clinic

Recent advancements of CAR-NK

16 patents filed

Money making
5/5
Long-term investment
Overall rating
4.8/5
Figure 7: M7 Criteria (Source: pioneered by Dr. Tran with inputs for advancement from IBI colleagues)
Avalon is a special investment opportunity that is not for everybody. If you cannot stand volatility, this stock is not for you. Nevertheless, if you conquered your fear (and you are in it for the long haul), Avalon would give you tremendous upsides. As you know, this bear market has knocked most biotech investments down to extremely low valuations. If you look at this bear as problematic, you'll see more problems. Now, if you view this market as an opportunity to average down, then it's the greatest time ever. That is to say, you can pick up fundamentally sound stocks at a fraction of their intrinsic value.
Putting Avalon into the proper investment perspective, you can see that the company is a leading innovator of cellular therapies. Simply put, Avalon has the best CAR-T known to men. The Flash-CAR technology is light years ahead of competitors. That aside, you know Avalon has other fundamental advancements like the recent IP filings. And last but definitely not least, the world-class management hasn't sold a single share.
As usual, I'd like to remind all investors that the choice to buy, sell, or hold is always yours to make. In my view, you should average down if you haven't done so. Make sure you give yourself a few years for Avalon to unlock its value. Even if the stock goes down, keep it. Let it rise to a new high in the future.
Disclosure: I/we have no stock, option or similar derivative position in any of the companies mentioned, and no plans to initiate any such positions within the next 72 hours.
Business relationship disclosure: Due to my medical and market expertise, companies and third parties like GuidePoint Advisors hired me as a paid consultant. Though being in the industry gives me expert insight on the forefront, my views may not be completely objective. On October 4th, 2019, I established a paid consulting relationship with Avalon. In August 2020, I finished my consulting work with Avalon. In August 2021, I re-engaged my consulting relationship with Avalon. See complete disclosure and disclaimer www.drtranbiosci.com/...
Additional disclosure: As a medical doctor/market expert, I'm not a registered investment advisor. Despite that I strive to provide the most accurate information, I neither guarantee the accuracy nor timeliness. Past performance does NOT guarantee future results. I reserve the right to make any investment decision for myself and my affiliates pertaining to any security without notification except where it is required by law. I'm also NOT responsible for the action of my affiliates. The thesis that I presented may change anytime due to the changing nature of information itself. Investing in stocks and options can result in a loss of capital. The information presented should NOT be construed as recommendations to buy or sell any form of security. My articles are best utilized as educational and informational materials to assist investors in your own due diligence process. That said, you are expected to perform your own due diligence and take responsibility for your action. You should also consult with your own financial advisor for specific guidance, as financial circumstances are individualized. That aside, I'm not giving you professional medical advice. Before embarking on any health-changing behavior, make sure you consult with your own doctor.