Summary
Bioscience stocks commenced the week on a rally with the momentum building stronger toward the weekend. Nektar, Portola, Sesen, and especially Regenxbio are trading northbound.
Packing heavy punches, Sesen Bio is knocking market bears toward an approval. Due to the robust VISTA outcomes, Vicinium will ultimately replace Valstar as the standard of care.
In readying for an upcoming approval of NKTR-181, Nektar formed the new subsidiary Inheris. It'll ensure a robust launch for NKTR-181, the silver bullet for the prescription opioid abuse epidemic.
Special thanks of all Integrated BioSci Investing members who participated in our daily discussion. I'm grateful for your intellectual generosity.
In honoring our troops who sacrificed their lives for our freedom, I'm offering a time-limited 50% discounts to new members. Message me if you wish to get your Memorial Day weekend gift.
You only have to do very few things right in your life so long as you don't do too many things wrong. - Warren Buffett
For the Memorial Day weekend, I'll feature another Integrated BioSci Investing Notable Community Discussion ("NCD"). This series is born out of my quest to continually improve the service for our community. As follow, an NCD fills in the gap for members who are unable to join the daily chat due to work and other obligations. As such, present pertinent highlights that we discussed during the week.
On Tuesday, May 21st, Flamman initiated an excellent discussion. As the market traded lower, the opportunistic investor Flamman - at least that's how I viewed him - prudently picked up shares in some key companies. Some of his purchases included the red hot
Sesen Bio
(
SESN
),
Nektar Therapeutics
(
NKTR
), and
Omeros Corporation
(
OMER
). Of note, I recently published updates on both Sesen and Nektar. You should definitely check out those research if you haven't done so. My trading analytics suggest that the momentum is building in Sesen, Nektar, Omer, and Regenxbio. These stocks have been trading on an uptrend earlier in the week.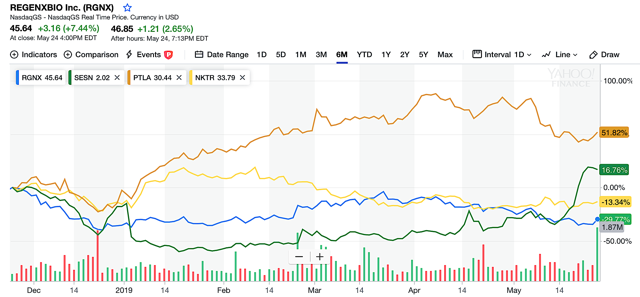 Figure 1: Notable IBI stocks (Source:
Yahoo Finance
)
As a tiny company, Sesen Bio packs power punches as the stock is on a tear. The strong momentum that galvanizes market bulls around the world is powered by highly favorable clinical development. Specifically, the lead molecule (Vicinium)
delivered
robust data in its Phase 3 VISTA trial. As such, Vicinium is well on its way to replace Valstar as the standard of care for non-muscle invasive bladder cancer. Since the data proved that Vicinium can delay the dreaded bladder surgery, it seems that all the ducks are lining up for Sesen Bio.
In a bold move, Nektar
disclosed
on May 23rd that the company launched Inheris Biopharma. As a wholly-owned subsidiary, Inheris is responsible for the development and commercialization of Nektar's CNS preclinical assets. Inheris came out of no where as surprise. That being said, this company is now dedicated to the preparation for the upcoming NKTR-181 launch. I believe 181 is truly the "silver bullet" for the prescription opioid abuse epidemics. And, it's dollars to doughnuts that 181 will be approved in the next few months. Perhaps, this can be a turning point for Nektar after strings of negative market misperception.
I really enjoyed my discussion with Flamman because he isn't "gun shy." When other market bulls are fretful about an incoming bear attack, Flamman brought out his bear hunting gears. Flamman further contemplated between another potential purchase, Portola Pharmaceuticals (
PTLA
) versus
Regenxbio
(
RGNX
). Below are our discussion and words that came directly out of the horse's mouth.
Flamman: Went on a buying spree this morning. Bought a small amount of SESN, a little more NKTR at $32.50, ICPT at $85.56 and some OMER at $18.75. I know all the negatives with OMER. I feel this will get to $23-$25 over the next quarter. My average is $14. I am debating about adding one more purchase, either PTLA or RGNX? Anyone have a feeling or should I toss a coin?

Dr. Tran: In my view, all picks and candidates above are solid long term bets. While the choice to buy, hold, or sell is ultimately yours to make, I'd choose RGNX. I studied this company thoroughly and strongly believe they have 'the best gene therapy platform.' Their broad and deep in-house, as well as out-licensed portfolios, ensure adequate diversification within one company. I believe that RGNX is positioned to bank serious bucks several years from now.
Adding more development to my week, the new IBI member (Dan Guthrie) who is trailing the service, joined our discussion. I could tell that Dan has a wealth of investment knowledge based on our prior chat and debate.
Dan Guthrie: My two cents is the same, RGNX between the two.
Dr. Tran: I appreciate your 'two cents' and I strongly believe that they will become 'two million dollars' in the future.

Flamman: Thanks, I appreciate the input. Maybe Trump will send the markets lower tomorrow. I can get a bargain. Feeling really good about NKTR, ASCO 5 abstracts for June 1-3.

Dr. Tran: It's interesting that Trump moves the market more than most catalysts do. Be intriguing to see what will happen tomorrow. NKTR is certainly a good long-term play.
As it turned out, our hunches were correct. The Heavy hitter, Truetoform2002, subsequently shared an insightful update on Regenxbio that staked further validity to our claims. On May 24, Regenxbio sent out an
update
that silenced the critics. The company informed investors that Zolgensma - the world's first gene therapy using Regenxbio's proprietary NAV technology - is now FDA approved. Formerly known as AVXS-101, Zolgensma is authorized as a one-time infusion for kids (younger than two years) who are afflicted by the deadly genetic disease coined spinal muscle atrophy.
Doubters claimed that Zolgensma won't be approved due to its adverse effects. They opined that the two patients deaths were related to Zolgensma which will essentially "seal the gate" for Regenxbio's bulls. Truth be told, those deaths, as I
elucidated
, were completely unrelated to Zolgensma. In my view, the market qualms were thrown way out of proportion to reality. After thoroughly
investigated
the situation, I remained strongly confident that Zolgensma would be approved.
Even after approval, the market is now concerned about Zolgensma premium reimbursement. Sure the therapy can be pricy yet there are always installments to offset the lengthy and low success rate of the innovation process. Without adequate reimbursement, innovation will be halt which will eventually come to bite us all. Looking ahead, I continue to believe in the tremendous upsides to Regenxbio. It's highly likely that this "Phillip Fisher growth stock" will trade at much higher multiples in the next several years.
On this subject of Regenxbio, I'd like to congratulate Chicagoflyer for having the courage to build additional shares. Throughout all the times that I know Chicagoflyer, it seems that this highly accomplished professional has a beautiful mind and a "strong stomach" for investment. Chicagoflyer usually purchases at the big dips like the one that occurred in late 2018. Furthermore, there were other notable discussions relating to Regenxbio as shown below.
ChicagoFlyer: I bought RGNX at $52 when it came down from $60+ and bought ALPN today at $4.80.

Flamman: Good thing you guys convinced me to add to my RGNX position yesterday!! Life is good! Looking for improved data on NKTR metastatic melanoma data.

Gregg Deering: The day started so quietly. Thanks, Dr. Tran, I have a bit of RGNX as well. I'll add to ALPN. I missed $4.50, maybe I'll see how it goes.

Dan Guthrie: RGNX, Yeah, I saw that but I expected the stock to up higher. Maybe traders have already turned in, a buying opportunity. I already own a decent position.

Truetoform2002: Maybe a bit of a delayed reaction where RGNX is a derivative play? I think this is a big deal. I love delivery platforms, and to get the first product approved using the platform through the FDA creates significant future leverage. The FDA will view future applications favorably, not to mention a revenue stream, albeit initially small, but cash is cash.

Dan Guthrie: RGNX, just saw that on the nightly

news

. The justification is this is a one time charge, while most treatments or surgery cost much more over time. Not sure their public relations guy signed off on that one in my humble opinion.
Though there are other interesting discussions, I chose the one centering Regenxbio. As you know, I believe in this 5-stars IBI stocks and its management. I hope you'll have a long and enjoyable Memorable Day Weekend. I'll spend some more time with my family yet I'll write more of the usual research for you.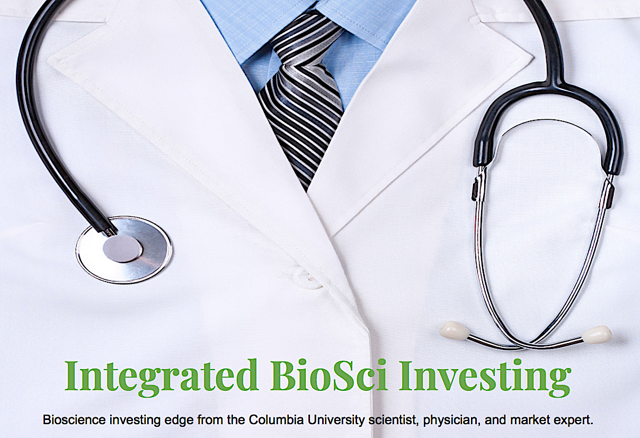 Thanks for reading! Please hit the orange "Follow" button on top for updates.
Dr. Tran's analyses are the best in the biotech sphere, well worth the price of subscription.
Very professional, extremely knowledgeable, and very honest … I would highly recommend this service and his stock picks have been very profitable.
Simply put, this is worth every penny. Just earlier today, one of the companies recommended by Dr. Tran got acquired for a nice 50% premium.